Christmas Card Picture Day
by Aline Weiller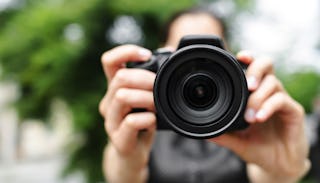 "You chase him and I'll get Cheerios," I yelled to my husband, Mark.
Clad in family portrait attire, he darted after our eighteen month-old son, Cameron, in the backyard. It was Christmas Card Picture Day and the terrible twos had made a premature debut. Cameron embodied the character, Dash, from The Incredibles, but forgot to send us the memo. We'd hired a professional photographer for a sitting, unfortunately for her, there was no actual sitting involved. A more appropriate description would be action photography akin to a field correspondent's most haggard day.
"Maybe we shouldn't have done this, trying to take a formal picture with one and three-year-old boys. Just apologize to the photographer, pay her and send her home," my husband sighed.
"No way," I mouthed. I was determined, driven to have at least one nice family shot for the upcoming holiday mailing to 175 of our closest friends and relatives. Complete with a Christmas letter penned by Yours Truly. It was the season of giving, not giving up. To me, the photo shoot was a cake walk…er, maybe cake run, but I'd survived much worse days, solo. An impromptu game of toddler tag with three adults supervising was not enough to shut our production down. Mark was understandably embarrassed (and maybe a little exhausted) due to the situation. What he didn't grasp, was that I'd never again have clean-faced, hair-brushed children sporting holiday wear — white turtlenecks under red cable knit vests with black wide whale corduroys. From Talbot's. The vests even featured old-time brown buttons that made them look like budding professors. I even dressed in a decent sweater set versus my usual mom hoodie. Blurry or not, the photo was going to happen.
Laura, the photographer, had yet to experience the joys and challenges of caring for toddlers. That said, she had the patience and energy to endure our rambunctious outing. She suggested we put the boys on our laps for an outdoor photo, so I fetched a blanket. Our older son, Grant, squirmed, but the baby would not succumb to still photography. In fact, that particular series shows Mark grasping Cameron, Heimlich Manuever-style, for dear life. Despite the plaid blanket, it was no picnic.
"We could take some indoor shots," Laura politely suggested, her possible hidden motive to keep the boys contained. No luck at that locale either. There were no tears, just lots of distractions and messy snacking. Strike two.
"How about our back porch?" I asked, still vying for the perfect family picture. The porch it was. With boys hoisted, one per parent, we posed against the white wooden railing. Close to an hour had gone by.
"Say Cheese. Say Spiderman. Say Family," Laura urged. "Family" was the magic word — the third, always the charm.
Our porch shot not only pleasantly surprised us, but seemed to resonate with others. I can safely say, I've never received such positive acclaim for a Christmas card. I was flooded with notes and calls as if I'd won an Oscar; it was surreal. A cousin announced we won first prize in her annual card contest. A college friend — a single guy no less — framed it in his living room. My mom teared up.
"What gives?" I asked myself after receiving such widespread kudos. I guess we clean up nice, I reasoned. The remarks were about the feel of the photo, its theme of sorts — a freeze-framed family full of promise, huddled and as closely knit as our sons' vests. Our pose was that of us hugging, the fall foliage draped behind. It appeared a relaxed day in the country, captured on classic black and white film; the American Dream backdropped by our own white fence. That year's Christmas card gave people hope. Perhaps it reached an elderly aunt at a lonely moment or a long lost friend whose address I'd scavenged, pre-Facebook. No matter the recipient, our card moved them. Little did they know to the extent moving played a part.
Perhaps it was our perseverance that shone through, that resilience young parents especially embrace. Maybe it was my sweater set. It forever remains a mystery. I always update photos around our home, but can't bring myself to replace that old black and white. It's housed in a metal frame featuring Kokopelli, the flute-toting, dancing God, that my husband brought home from a business trip. Though Southwestern is not our style, I didn't veto its arrival; it was of use. Since then, photo and frame seem somehow in sync, not to be disturbed. Even today, I can't tuck away our famed picture, placing it to rest in a chronologically-ordered album. Kept under wraps, it might lose its super powers. Like a family heirloom brought to an appraiser on Antiques Roadshow, its worth has grown with age and the photo now holds hallmark status.
"Am I going to have to run after you today?" the same photographer, Laura, asked Cameron at this year's sitting, then gently chided him for his antics on that memorable day. With an adolescent smile, he shrugged and mumbled a quasi-apology, albeit a dozen years late. Christmas Card Picture Day is still one of my favorites, though my co-stars don't share this sentiment. The 2014 bribes were many, as I had to carrot my boys to don something other than sheened sweatpants. Fortunately this time, they actually sat, simply giving each other brotherly jabs as they jostled into place. As in years past, Laura prompted us with words to beckon genuine smiles.
"Say Family," she said, as she snapped the shot.
Related post: The Perfect Picture
This article was originally published on