It's Christmas Year-Round At This Magical Inn And We Want To Go Right Now
by Julie Scagell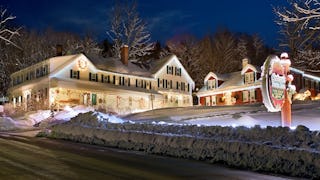 Image via Christmas Farm Inn and Spa
No need to wait for Santa, Folks, this Inn has you covered
For those of us who simply cannot wait until Christmas (ahem, 84 days and counting), imagine you could get away to a place with all of the Christmas cheer and none of the hassles of the day itself? Sound too good to be true? Well, allow me to make your day — there's a magical place in New Hampshire called the Christmas Farm Inn and Spa — and it's guaranteed to have you Ho-Ho-Ho-ing all the way there.
The Christmas Farm Inn and Spa is an enchanting bed and breakfast located in the White Mountains in Jackson, New Hampshire. The best part? No matter what time of the year you visit, you're guaranteed to experience some serious holiday spirit. The 15-acre resort has myriad options for whatever you're in the mood for (can someone say "Vixen Room?") including a cozy "Mistletoe" pub, in-room massages, jacuzzi tubs, access to their full spa, and a chance to relax and unwind around the fire.
If you go during the holiday season, guests can partake in New Hampshire's annual Journey to the North Pole train ride through the mountains, but don't feel like you have to wait. The Inn has girls' weekend and romantic getaway packages available now and we could all use a break these days, am I right?
And if you must bring the kids (though I happen to think they get enough spoiling already), the Christmas Farm Inn and Spa is a 5-minute drive from Story Land (a New Hampshire amusement park) through the Jackson Covered Bridge in the breathtaking village of Jackson, New Hampshire. Santa's Village is also a short 45-minute drive. The Inn has a heated pool, outdoor play area, "Mom and Me" nail appointments (with an orange creamsicle at the end), and a family-friendly restaurant serving up all kinds of holiday-themed yumminess.
Of course, you can always go by yourself, too. Throw on some Christmas music, spike that eggnog, lounge around in your Grinch PJ's, and spend the kind of Christmas you've always dreamed of — alone — in October.
And for those who love history, the Inn was once a jail-church-farmhouse combo, and the main "Saltbox" building is believed to have been built in 1778. In 1933, the property was purchased a Christmas gift for a man's daughter, who named it "Christmas Farm." She eventually sold the property in 1946 to a couple who renamed it the Christmas Farm Inn and Spa, turning it into the gorgeous property it is today.
Call and ask for any of their 12 Carriage Hills Suites by name: 1 Partridge in a Pear Tree, 2 Turtle Doves, 3 French Hens (you get the drift) or a room in one of their seven cottages. They also have the historical "Salt Box" suites and the Main Inn with rooms named after all Santa's reindeers.
If anyone's looking for a pre-holiday holiday, the Christmas Farm Inn is definitely one to check out!
This article was originally published on