Be The Extra Mom At The Holiday Party With 'Christmas Tree Eyebrows'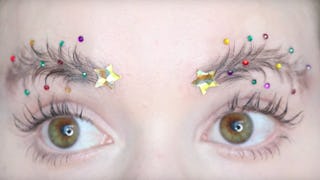 Image via Instagram/Taylor R
Christmas tree brows are the latest eyebrow craze and we're kinda feeling it
It's a situation that could happen to any of us. You've been so busy finding an outfit, a white elephant gift and a decent bra for tonight's holiday party that you totally forgot to deal with the caterpillars nesting above your eyes. Plucking or waxing this late in the game will leave you with red skin but you're desperately looking forward to adult drinks without kids underfoot.
Take a deep breathe and grab that body glitter you've been hoarding since middle school, because we've got a plan. It's dramatic, over the top and maybe a teensy bit cheesy, but there's a a new eyebrow trend just in time for the holidays and we promise, if you try it, no one will accuse you of slacking off in the brow department.
Presenting Christmas tree brows:
This entire time you thought you stopped plucking because the cold weather was making you lose the will to do anything other than watch The Crown and occasionally wash your hair. You didn't realize that your subconscious was helping you grow out your eyebrows so they could achieve their true purpose as faux Christmas trees.
Christmas tree brows are actually much easier to pull off than they look. All you need for some fabulously festive brows is a little glue and some stick on gems.
It's easy to do once you get over the strangeness of combing your eyebrow hairs in opposite directions. Once you get the hang of it you can create any look you want — from a sparse Charlie Brown brow with just a little glitter to ones that could hold their own next to the tree in Rockefeller Center.
https://www.instagram.com/p/BcqGnLvn6qC/?tagged=christmastreeeyebrows
What makes this trend so fun (besides the fact that you'll absolutely steal the spotlight from your PTA nemesis) is that between the greens from that makeup palate in the back of your closet and the kids' craft bin, you probably already have everything you need to pull it off. Which is perfect, because December is not the time to add another store to your to-do list.
https://www.instagram.com/p/Bcob-guFOb5/?tagged=christmastreeeyebrows
Sure, Christmas tree brows are extreme as far as holiday-themed dress up goes, but no more so than those overpriced, ugly, Christmas sweaters you buy once and never wear again. So who cares? Rock them! At least these take imagination and creativity.
https://www.instagram.com/p/BcjHgM9h4iL/?tagged=christmastreeeyebrows
And you know you'll outshine everyone in all the group photos.
Or rock a selfie (or 12).
https://www.instagram.com/p/Bcpzz9mlsG6/?tagged=christmastreeeyebrows
https://www.instagram.com/p/BcVqzEAgXcc/?tagged=christmastreeeyebrows
You're basically walking Yule.
https://www.instagram.com/p/BcS3DhzHzVv/?taken-by=bronya_h
Like a cute Christmas fairy.
You know you're going to get tons of compliments.
Christmas brows let you own this holiday with the added perk of never having to pick up a pair of tweezers.
https://www.instagram.com/p/BcZYp5GH8VR/?tagged=christmastreeeyebrows
When the night is over you can wash away the evidence and even wax your brows back into shape if you want. But like spirit of the season, the joy of Christmas tree brows will live on in your heart.
This article was originally published on