A Giant 'Christmas Vacation' Inflatable Car Exists, And We Need It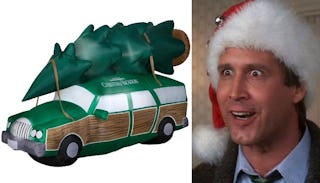 Image via Amazon/IMDB
This huge Christmas Vacation inflatable car is here to make your holidays a whole lot better
Do you know what your holidays are missing this year? An enormous inflatable station wagon that looks exactly like the one from the iconic 1989 film National Lampoon's Christmas Vacation. You'll be the envy (and annoyance) of all your neighbors when you plant this bad boy in your front lawn.
Sorry, not sorry.
The station wagon rings in at $229.99 on Amazon and is a whopping eight feet wide. So, yes, you'll be shelling out an arm and a leg for this contraption but just think of the joy you'll feel when you pay ginormous, inflatable homage to arguably one of the best National Lampoon movies. Plus – you can pretend that Clark, Ellen, and the rest of the gang are hanging out with you during the holidays.
Did we mention that it comes with LED lighting? And that it self-inflates within seconds? And easily deflates so you can pack it away in storage? Happy holidays to us all.
The Griswolds would be so, so proud. Todd and Margo would hate it. Here's hoping that you don't cause a power shortage for the entire city.
Okay, has this suddenly put you in the mood for buying all of the pop culture holiday decorations? Lucky for you, there's a few more National Lampoon tributes out there (because the holidays are all about being a little extra). You can also snag a replica figurine of Cousin Eddie's RV, which lights up in multicolored Christmas lights and will add plenty of sparkle/mischief to your house. Cousin Eddie is, thankfully, not included.
If you want to go all out in your love of Christmas Vacation, you can also buy this life-sized cardboard cutout of Chevy Chase. It'll go perfectly next to your new inflatable station wagon and no one will EVER be able to question your commitment to pop culture and the holiday season.
Here's to the happiest and most extra of holidays. And here's really hoping that things go way better for you than they did for the Griswolds…
This article was originally published on