Photographer Re-Created Scenes From 'Christmas Vacation' With Newborns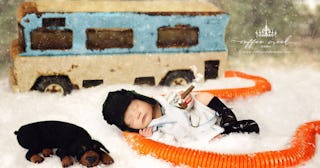 Coffee Creek Studio by Amy Haehl
This 'Christmas Vacation' newborn photo shoot is everything
The holidays wouldn't be the same without the iconic film Christmas Vacation, which my family personally watches no less than 12 times each season. And one photographer recently made her mutual love of the movie clear, too: She used it as inspiration for one of the most adorable photo shoots we've ever seen.
"This year, we're celebrating a fun old-fashioned family Christmas!!!" Amy Haehl, an Indiana-based wedding and newborn photographer who owns Coffee Creek Studio, wrote on Facebook alongside photos of teeny-tiny newborns dressed as characters recreating some of the best scenes of the movie.
The Shelbyville, Indiana, photographer tells Scary Mommy that as a newborn photographer, she usually photographs them in a beautiful, timeless way that's not "themed." "I have a passion for movies and newborn photography, so whenever I'm able to mix the two, it's extra fun for me… especially if it involves Christmas, too." Haehl says.
The photos showcase two newborn babies — only 8 and 11 days old at the time of the shoot — in scenes from Christmas Vacation. The attention to detail — down to the moose mugs, burnt Christmas tree, the blue leisure suit, and the crime scene cat fur — is what makes the photos so perfect. "There were so many details that just had to be included, right down to the little squirrel on 'Clark's' shoulder," she continues, "which most haven't even noticed!"
"One of my all-time favorite movies is Christmas Vacation," Haehl says. "We watch it and laugh harder every year. I don't know why, but I've always thought it would be so funny to recreate some of the scenes with newborns. I've been gathering the details for quite a while now, and I'm so glad this was the year to finally release them."
Haehl took photos of a newborn dressed as Ralphie from A Christmas Story last year for fun. "I thought it would just be something cute and fun for my viewers, and I had no idea how popular it would become! We actually just re-created it this year and it has been so fun to see him in the same scene a year later. He fits the role perfectly!"
Lucky for the rest of us, Haehl's creativeness will continue for future years. "I do have plans to do more of these," she says. "They're just so rewarding for me to create, even though they're costly and take a lot of work. I also love that they are loved by so many others. So many people have told me how I've brightened up their days and that means the world to me. I'm looking forward to the next release which I already have pictured in my mind. I just have to hopefully find what I need to make it happen!"
For such a detail-oriented shoot, Haehl sure makes it look easy. But she admits it was an "exhausting process." "Figuring out all of the perfect little details and pulling this off has been quite an exhausting process," Haehl wrote on Facebook, "and all I can say is, 'Hallelujah! Holy Sh*t! Where's the Tylenol?'"
Amen to that.