Old Republican Politician Literally Grabs A Woman By The Pussy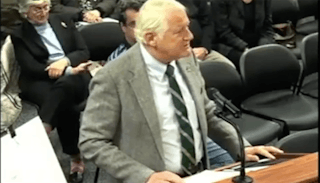 Image via YouTube
He allegedly said, "I love this new world, I no longer have to be politically correct."
A 71-year-old Republican politician got into a verbal altercation with a woman in an unnamed town facility in Greenwich, Connecticut. Security cameras caught Christopher von Keyserling reaching through the woman's legs from behind her to "pinch her in the groin."
He literally grabbed her by the pussy. Wonder where he got that idea.
While they were arguing, the woman told him it was "a new world" politically, to which he allegedly replied, "I love this new world, I no longer have to be politically correct," according to the warrant.
According to Westport Weston, the woman then replied, "If you are proud of that, I really can't help you." That's when von Keyserling allegedly called her a "bloodsucking union employee," to which she understandably replied "Fuck you."
At that point, he followed the 57-year-old woman into her office, saying he wanted to talk to her co-worker. When her co-worker refused to talk to him and left, the woman tried to follow her, at which point von Keyserling pinched the 57-year-old woman in the groin area. The altercation was caught on security camera. She threatened to punch him if he tried to pinch her again, according to the warrant, and he replied, "It would be your word against mine and nobody will believe you."
The woman was hesitant to come forward, until learning that similar things had happened to other employees. From Westport Weston: "She declined to speak about the complaint, prompting him to say, 'Was this about the little pinch I gave?' and further adding it was a joke and that he couldn't believe the 57-year-old woman could be offended, the warrant said. He said that he and the woman have 'that kind' of a relationship. He added that 'he is the kind of guy that like to embarrass his teenage daughter and he calls it a 'gig' and that's what this was 'a gig.' He asked whether he could apologize but was told to not contact the victim and stay away from the facility."
Von Keyserling's lawyer told Greenwich Time "There was a playful gesture, in front of witnesses. It was too trivial to be considered anything of significance. To call it a sexual assault is not based in reality."
Grabbing a woman's pussy is not a "playful gesture." It's assault. The prosecutor agrees. Von Keyserling was charged with 4th degree sexual assault and posted the $2500 bond. He'll appear in court January 25th.
This article was originally published on