Chuck E. Cheese's Offers Sensory-Sensitive Sundays For Children With ASD
by Jordan Davidson for The Mighty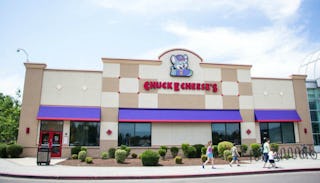 SweetBabeeJay / iStock
Children on the autism spectrum now have more places to play, thanks to a new initiative hosted by Chuck E. Cheese's and the Center for Autism and Related Disorders (CARD). As part of their partnership, Chuck E. Cheese's will host "Sensory Sensitive Sundays" at its Attleboro, Massachusetts, location, with events scheduled for the first Sunday of each month.
"We are excited to provide a special opportunity every month for sensory sensitive families to enjoy their favorite pizza and games in a safe and friendly environment of tolerance and understanding," Breanna Tanksley, manager of Chuck E. Cheese's Attleboro, said in a press release.
The first sensory-friendly event was held from 9 a.m. to 11 a.m. on November 6. Following the first Sunday format, the next event will be held on December 4.
Chuck E. Cheese's also hosts a sensory-friendly event in Glen Burnie, Maryland. The event features reduced noise and dimmed lighting from 9 a.m. to 11 a.m. on the second Sunday of each month, Stephanie Debarber, assistant manager of the Glen Burnie Chuck E. Cheese's, told The Mighty.
"I bring my own kids to our sensory days, and it gives not only our kids a chance to play in a calm, sensory-friendly and understanding environment, but also us parents time with our kids and like-minded, understanding folks," Debarber said. "All of the cast members we schedule for our events are understanding and want to be there. There is no better feeling as a manager than being there with parents and kids who are happy and genuinely want to be there with each other."
Chuck E. Cheese is the latest company to organize sensory-sensitive events geared towards children on the autism spectrum. Last month, Toys "R" Us stores in the U.S. and U.K. announced they would hold quiet holiday shopping hours for families on the autism spectrum.