No One Can Agree On How Many Times You Say 'Chugga Chugga' Before 'Choo Choo'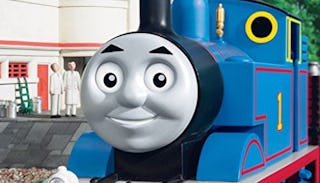 Image via IMDB/Thomas & Friends
It's the most important parenting debate you will ever take part in
Parents, are you ready to take part in the most heated debate of your parenting career? No, not about vaccines or sleep training methods. The subject matter of this debate is universal: how many times do YOU say "chugga chugga" before finishing things off with a "choo choo?"
A Reddit user recently posted the question, which seems innocent and lighthearted on the surface — until you realize just how heated we can all get about our varying opinions on the subject. The post quickly blew up, because why wouldn't it?
"I've always said two, but now my kid is saying three," a user called u/baption0 wrote. "However, my kid's preschool teacher says one and it pisses me off that there aren't enough chuggas for a choo; how's the train supposed to go anywhere?"
Okay, one chugga chugga is like, impossible. Another parent says they have a specific rule of thumb.
Another user brought up a solid point about the train's route.
It was quickly confirmed by an official "railroader" — and honestly, is this entire thread not the purest thing you've ever seen on the internet?
The general consensus for how many "chugga chuggas" are thorough enough seems to be eight. Which is a number I personally stand by, when I do it in my head or for my child — it's always no less than eight.
Many people seem to agree about eight — and others were quick to chime in on where to place the proper emphasis. (Which is very important.)
Coming in at a close second place, many others said four "chuggas" was sufficient. It doesn't disrupt the pattern of eight, but for the sake of brevity and time, it works.
Basically, it has to be multiples of four.
If you really want to get into the nitty-gritty of it, this thread has more than enough people willing to put in the brain power on this one.
Regardless of where you fall on this debate, can we all agree that one singular "chugga" is offensively wrong? I mean what train can make an entire journey — of any determinable length — on a single chug? It's giving our kids the wrong impression about the ability of locomotives, for one thing, and it's just kind of lazy. If you're only doing one "chugga," you need to step your game up.
One person had the best response to the single chug answer. THE BEST.
So where do YOU fall on the debate?