Local Church Saves Drag Queen Story Time After Politicians Shut It Down
by Leah Groth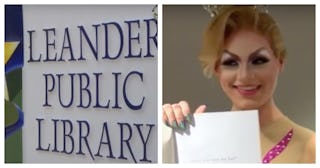 YouTube
"We want the children of this community to know that they are loved no matter what"
Drag queen story time has been spreading across the country like wildfire, and rightfully so. The idea of drag queens, all done up and looking fab, reading children's book sounds totally amazeballs. Not only is it entertaining, but a perfect and fun way to teach youngsters about love and inclusivity.
However, not everyone is psyched about the idea — including politicians in Texas — who recently canceled an event at their local library. They claim that they canceled the event not because it involved drag queens, but to protect children from potentially being exposed to "registered sex offenders."
A statement on the city's website announced the cancellation in May, citing that "live entertainment with outside guests" not on Central Texas Library System's "slate of recommended entertainers" were scheduled to be involved. The city claimed that they also had received "input from many citizens and community stakeholders" urging them to cancel it.
Instead of sitting back and depriving children of their chance to learn simultaneously about inclusivity and what happened to Humpty Dumpty when he sat on a wall, a local progressive church stepped in with an act of awesomeness. See, there are churches out there teaching you that there is no one-size-fits-all approach to God!
Open Cathedral, an LGBTQ-affirming church in the burbs of Austin, decided to rent out a room at the Leander Public Library this Saturday for the reading and host the event themselves. And guess what? It sold out almost immediately. "Stories for children, read by a drag queen, about loving yourself and how wonderful it is to be special," they promised on the landing page for the event.
"We want the children of this community to know that they are loved no matter what," Ryan Hart, the church's lead minister, told HuffPost about why they decided to host the event. "That is the mission of our church as a whole, to celebrate diversity and community in God, to empower wonder and compassion for all of creation."
The church announced the books to be read at the event on their Facebook page, all of which promote individuality.
Michael Neu, a spokesman for the city, elaborated on the subject, telling the Austin American-Statesman that part of their motivation for canceling it was due to a registered sex offender reading to children during a Houston drag queen story time. He pointed out that had there been a background check conducted, the situation could have been avoided. According to the Leander Public Library website they "do not currently conduct or request background checks of its presenters and guests."
Leander Mayor Troy Hill supports the cancellation, as he believes that social issues and politics don't have their place in the library. In fact, he pointed out that other, more conservative events, would also be frowned upon. "I would be curious if those favoring 'inclusiveness' would feel the same had it been storytelling time about the life of Donald Trump, or how those who want it canceled would feel about canceling a story of guns in America," he told ABC affiliate KVUE. "We have lost our ability to discuss with respect for opposing views."
While the story time will go on for those 150 individuals with tickets, the city has decided to close the library on Saturday due to anticipated protests. And, the church promises that whoever is reading will have passed a thorough background check.
We are totally supportive of any events that support inclusivity — including drag queen story time. If you aren't into the idea, then just don't go. It's really that simple.