Ciara Dancing In Rehearsal While Holding Her Baby The Whole Time Is Peak Mom
by Cassandra Stone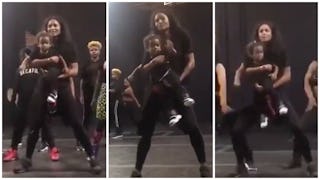 Image via Twitter/Ciara
She might be 10x cooler than us, but we can all relate to Ciara's #MomLife video
Ciara, who released new music this year and is currently part of Bruno Mars' 24K Magic World Tour, is on top of her game. And not just as an artist, but a mom, too. And the viral video she's sharing shows that no matter our backgrounds or occupations, moms know better than anyone how to get things done — baby in arm and all.
"This is what a rehearsal looks like for me now," Ciara tweets. "She cried when I tried to put her down, so this was the result. She loves #Dance #MomLife #Dose"
Her one-year-old-daughter Sienna can be seen just living her best life while her mom busts her butt — and some killer moves — during rehearsal. The entire time, she's just content as can be while unknowingly becoming part of a full dance routine. She doesn't even fully grasp how cool her mom is right now.
That's the thing about moms, though. We can go about our daily lives without missing a beat (literally, in Ciara's case) all while exhausted and with a baby in tow. Right now, I'm typing this story while my three-year-old sits halfway on my lap and tugs at my hair — this is just how life is now. Work or no work, kids DGAF.
People on Twitter are loving the video, and many fellow moms out there are sharing how they relate.
https://twitter.com/jetpack/status/1057598099588296705https://twitter.com/jetpack/status/1057654980830617601
There's nothing better than a famous mom we can all actually relate to in certain ways. Ciara, who is back with new music this year for the first time since 2015, says her kids (she also has a 4-year-old son) are what inspired her return.
"I felt more empowered than ever when I learned that I was pregnant with my second child," Ciara tells Refinery 29. "It was something about having a girl, being a woman, and thinking about my journey. I want to make my kids proud."