Cinnabon Is Selling A Chillata Topped With Whipped Cream And A Churro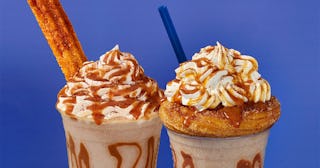 Cinnabon
Cinnabon wants to give you a delicious sugar high with their new Churro Chillatta
It's literally always time for a yummy, frozen, sugary treat, and Cinnabon clearly understands this fact and has majorly delivered with their new Churro Chillatta. It combines some seriously magical ingredients and the end result is positively drool-worthy. With spring almost here and summer following shortly after, it's time to weave frozen beverages back into our lives and this is a perfectly delicious-looking option.
"Introducing our NEW Churro Chillatta, a magical, frozen blend of churro & caramel topped with a bonus churro because why not?" Why not indeed. Do we really need an excuse to incorporate whipped cream, caramel, and churro into our diets? I mean, this just makes it super convenient.
You can top with a traditional churro stick or a churro swirl, and honestly, there's no wrong answers here. A churro's a churro and they're always welcome in our bellies.
"The new Churro Chillatta is the perfect way to treat yourself. Churros have become such a popular treat, we had to find a way to mix it up and deliver it in a beverage," says Karyn Sarago, Cinnabon's Chief Marketing Officer. "This over-the-top beverage experience catches your eye and is sure to have loyal Cinnabon fans and new guests craving churros all spring long."
FYI, Churro isn't the only Chillatta flavor option. The chain also offers OREO® Cookies & Cream and Strawberries & Cream Chillattas and yes please, give me a flight of all three blends so I may taste test them myself.
Remember that your favorite source for sugary treats at the mall also has the best cinnamon buns on earth, so grab a box of those to go along with your frozen churro concoction. It might be the sugar rush you need to get through the rest of your busy day.
According to a release, the Churro Chillatta is now available for a limited time at Cinnabon mall bakeries nationwide, starting at $6.29. A total bargain for how much tasty joy it's sure to bring.