How 'Circle Talk' Might Improve Maternal And Infant Health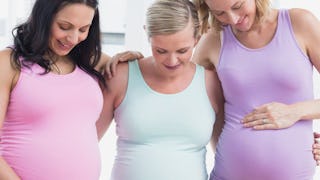 Wavebreakmedia-Ltd-via-Getty
Over the last few years, there has been an increase in discussion surrounding maternal and infant health in the United States. The findings have been disappointing but also consistent. Women across all income and education levels report feeling overlooked and misunderstood by our current medical structure — it's reflected in the rise in maternal mortality.
Certain groups, namely Black women, face an additional risk for having negative birth experiences, including death. States are employing a variety of new methods to reduce adverse outcomes like maternal and infant mortality. However, as it turns out, the solution to some maternal and infant health challenges might be as simple as providing an environment for them to talk.
Think: circle talk or "group therapy" for pregnancy.
A recent article published in Vox discussed the initial skepticism Dr. Amy Crockett, a maternal-fetal medicine physician with Greenville Health System, felt toward using circle talk as a viable option for improving maternal outcomes. Her state of residence, South Carolina, ranked 49th and had infant death rates comparable to war-torn countries. Figuring they had nothing to lose and everything to gain, Dr. Crockett decided to experiment with group prenatal care instead of the traditional 15-minute visit format used in many appointments.
The group was larger, so the appointment time was increased to two hours, but the results shocked Crockett and many others in the state.
Notably, there was a reduction in preterm births shortly after employing the strategy. Although her test group was too small to make wide-scale suggestions, research has indicated the use of the CenterPregnancy model in South Carolina reduced the risk of preterm birth by 36 percent. The successes have been so significant that South Carolina is the only state that Medicaid patients have routine access to the program.
Crockett found that technology and medication weren't always necessary and often the thing a pregnant woman needs most is support. During these group sessions, pregnant women and their partners had the opportunity to discuss their parenting and life concerns in a group of people who are in a similar stage of life. Many of these individuals didn't have other outlets to discuss their experiences candidly, and the benefits of talking about fears with someone who understands is priceless.
The benefits of talk therapy in a variety of scenarios have been well documented over the years. Having the ability to express yourself has a positive impact on self-awareness and mood, and can even reduce the impact of anxiety and depression. Over the last year, there have been more studies that focus on the unique ways that group therapy can take the benefits of traditional talk therapy and add a new twist. Group therapy has also been found to be particularly helpful for those who struggle with chronic illness, even if the therapy is done in an alternative form like group workouts.
It seems like a perfect match for pregnant individuals to be given the space to discuss their concerns in detail with support. So why haven't we tried this before? And now that we have, why is it taking so long to take off across the United States?
That answer is more complex than any of us know, but there is a good chance it has something to do with the birth model we use here. Unfortunately, preventative care hasn't been a priority in our nation since we function under a "we will cross that bridge when we get to it" kind of healthcare system. Additionally, many maternal programs focus on the health of the baby — which is important, for sure — yet overlook the overall physical and emotional needs of the pregnant person. As more and more research points out the impact of stress, comfort, and past experiences in birth outcomes we can't afford to continue neglecting the needs of expecting parents.
A variety of models across the US are working to reshape the pregnancy experience to include the needs of those who are expecting pre-, during, and post-birth. But we still have a long way to go. Earlier this year, a paper published in the journal Health Affairs that was produced by a team of researchers from Johns Hopkins University found that American babies trail far behind their peer countries. Compared to Canada, France, and Japan, our infants are 76 percent more likely to die before their first birthday. And the premature birth rates are even worse.
There likely isn't a quick fix for improving birth and related outcomes in the United States. But there's a good chance "circle talk" could be part of the solution.
This article was originally published on