Barbershop Pays Kids To Read Aloud While Getting Their Hair Cut
by Christina Marfice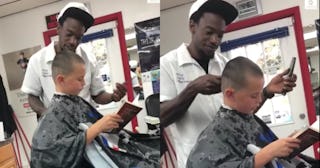 ABC News via Facebook
At a Pennsylvania barbershop, kids are getting more confident by getting paid to read out loud while getting their hair cut
Typical barbershop sounds: Clippers buzzing, background music, maybe sports on a TV somewhere. Not-so-typical barbershop sounds: Kids reading their favorite books out loud. But at City Cuts, a shop in Kutztown, Pennsylvania, that's a normal thing to hear. The shop has a program that offers to pay kids $3 if they read a book aloud to their barber while getting their hair trimmed.
The "Books by Kids" program idea came from the shop's owner, Jon Escueta, whose lifelong battle with shyness and a fear of public speaking inspired him to start helping his community's kids. His hope is that reading aloud to their barbers will help them become confident public speakers.
"Our goal is for the kids to boost their confidence in front of others without fear of being judged," he told local news station WQAD. The kids are eager to participate because of the paid incentive, which was initially funded by Escueta himself, who invested $50 to start the program. Now, funding comes from donations from customers and other members of the community. Escueta also started a GoFundMe page to raise funds to keep "Books by Kids" going.
Escueta has personal experience with the power reading has to help kids gain confidence. When he was eight years old, he immigrated to the U.S. from the Philippines.
"I didn't know English and that was a lot," he said. "I felt like I was being judged."
He continued, "The ones who are timid – I gravitate toward those kids. I know what it feels like and try to make them feel good about themselves."
What helped Escueta gain his confidence was a teacher who encouraged him to read. He told her he didn't like reading, but she used a book about basketball to convince him to give it a try. Now, he's paying forward that act of kindness by helping to encourage a new generation of shy kids to find confidence through books and reading. It's so simple, but so genius.
What's even more amazing is that the program not only benefits kids, but has helped Escueta get even more over his fear of public speaking, since he does pretty regular news interviews about "Books by Kids." It's truly a program that gives back to everyone who's involved in it.
This isn't the first program like this in the country — Escueta got the idea from a number of other barbershops in different states that offer kids money or discounts for reading aloud to their barbers. Other, similar programs have also made headlines over the last few years. For an idea like this, it's definitely not about who came up with the idea first, but about how many kids can benefit from the program. In this case, that's a lot of kids, and we are here for it.