Claire's Accessories Is Filing For Bankruptcy -- RIP Your Childhood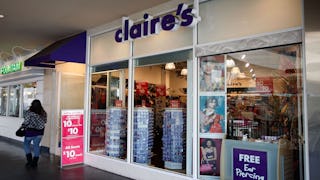 Image via Getty Images/David McNew
The fashion accessory giant is reportedly filing Chapter 11 in the next few weeks
Hold onto your BFF necklaces people, Claire's, the accessory store with a cult-like following (among millennials especially) is reportedly filing for bankruptcy. And if you're shaking your head like, "duh, no one goes to malls anymore of course they are," please respect the fact that while true, some of us are in mourning here.
The popular mall store that looks like a unicorn exploded when you walk in is planning to file for bankruptcy in the next few weeks, Bloomberg reported. It's sad because stores like Claire's are how we forged our tween friendships — buying $2 prom jewelry and getting our cartilages pierced. Speaking of which, let's just take a moment of silence for the thousands of ear piercing specialists who will be left holding their guns with no one to torment.
This latest victim comes right on the heels of Toys R Us reportedly planning to liquidate its US stores. Can we please get a hot minute to mourn our childhood before you rip another relic out from under us? Is that too much to ask?
The fashion accessories chain is planning to transfer ownership from Apollo Global Management LLC to a group of lenders. They are currently shouldering over $2 billion of debt so obviously we must stage some sort of "National Clarie's Day" event where everyone has to show up at a mall and purchase at least one earring set or pair of cat ears.
You can still buy actual scrunchies at Claire's. They never stopped selling scrunchies even when the entire nation clearly signaled scrunchies are not cool anymore and we will not be purchasing them from your store, they remained steadfast in their commitment to the '90s. They never wavered. This place is a goddamn institution. We must do our part.
But there is hope, albeit a tiny sliver of silver lining. A Chapter 11 bankruptcy filing, which is typical for retailers, would allow them to continue business as usual while they determine a plan of attack to turn the ship around. Considering the decline in mall traffic happening all over the US, who knows if there's an opportunity for stores like Claire's to get over the hump but hey, a girl can dream.
Sure, you can buy Clarie's accessories online, but you can't feel the vibe of the store. You have to immerse yourself in the glitter and bling and feathers. You need to peruse the racks of fake diamond studs and touch the coin purses even though no one carries change anymore. You need to watch nervous tweens waiting to get their ears pierced for the first time because this is where you got your ears pierced for the first time. FOR FREE.
Here's hoping the new owners can figure out the answer before it's too late.