Clash of the Butlers in Downton Abbey/Star Wars Video
by Emma Waverman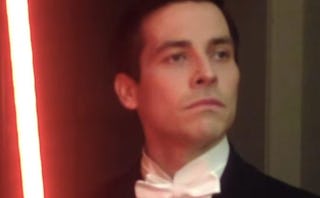 The video was filmed by Downton star Rob Collier—aka the evil Thomas Barrow—on his phone in-between takes on the Downton set. Brendan Coyle's John Bates is the Phantom Valet fighting Collier's Evil Butler. Bates' lovely wife, Anna, even drops in, though it seems that the Force is not strong with her.
Collier is hoping the video, and the subsequent installments, will raise money for him to run the London Marathon and benefit the Chilterns MS Centre, which helps patients with multiple sclerosis lead happy and healthy lives.
Collier released Downton Wars: Episode 1—The Phantom Valet with the promise that he would release Part 2 after reaching his goal of 10,000 pounds (about $15,000). He has already surpassed his target, so watch out for Episode 2—The Evil Butler Strikes Back. Collier is still accepting donations at his website evilbutler.com.
Star Wars and Downton seem like an odd pairing, but there were rumors that J.J. Abrams, the director of the new Star Wars, is a big Downton fan and visited the set last year to scope out some actors for the new installment.
The Downton stars do seem like a lot of fun—their legendary Bananagram games have made the news as well. Not surprising that Maggie Smith is the champion at that word game.
I'm not sure that a Star Wars—Downton Abbey video will do the trick to get my kids interested in watching the show—but I'm going to give it a go!
This article was originally published on