Cleaning Up My Tween's Room: Choosing What's Still Precious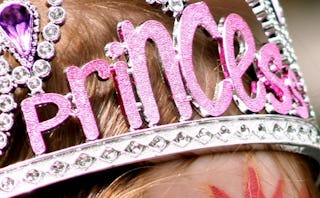 Mia and I start to clean her room together. Now that she is almost 11, she doesn't want a little kid's room anymore. Suddenly, the cotton-candy-pink paint on the walls is too bright for her. She no longer wants her stuffed Smurf sitting on the middle of her bed. And princess prints are for babies. I have agreed that we can redo her bedroom for her birthday if we can also really clean out the room: closets, drawers and all. She turns on Taylor Swift, and the two of us dig in.
I sit on her shaggy carpet and watch her, standing while sifting through a bin of doll clothes, lit up in the sunlight streaming through the window. She is the definition of tween: in the middle, not a child, not a teen. She believes in Santa yet knows about sex. She sleeps with a light on but uses the oven by herself. She sits in the front seat of the car but wants to be tucked in at night.
Her once-stout body has grown lean and long. She is no longer adorable; she is beautiful. She is not wearing a flouncy skirt, no dazzling accessories. She wears simple clothes: jeans and a turquoise T-shirt. Her shiny brown hair is pulled back tight in a ponytail. Her green eyes stand out from her face, no longer embedded in chubby cheeks.
Some things she parts with easily, and so do I. We throw away posters from her Daisy troop, pictures from her princess coloring book. We put the golden curtain rods in the trash.
But I find myself making a separate pile of things to keep because I cannot let go yet. I hold up a little dress: pink, silk, with tiny, glittering beads and fringe upon the edge. My in-laws gave it to her when she was 7, which seems like yesterday. She was a 7-year-old in a miniature flapper dress.
"Oh, what about this?" I ask.
"It doesn't fit me anymore, Mommy."
"I know," I sigh and actually hold it up and rub it against my face.
She tells me to toss a purple tulle butterfly that used to hang from her ceiling, but I secretly put it in my side pile.
We make a pile of Rainbow Fairies books to give to our neighbor. I won't miss those books. But I put the Ramona books to the side. I can't give Ramona away.
I find the beautifully misshapen, clay heart box she made with her once chubby fingers. It is lined with felt and embedded with jewels and gems of every color. The bright red paint shines garishly. The lid is more of a circle shape, so it doesn't fit on the heart-like bottom.
"Oh, Mommy," she says, taking it from my hands. "I don't know why, but I just have to keep this," as she rubs the bumpy top with her thumbs.
I smile. "I get it. I do."
This article was originally published on