This Entirely Clear Puzzle Can Make Your Quarantine Way Better... Or Way Worse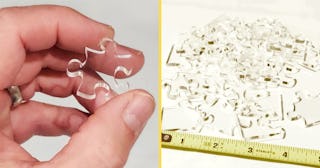 LittleFlowerPotShop/Etsy
Depending on how your quarantine is going so far, maybe you can try this insane clear puzzle to help pass the time
As people all over the country approach a week (or longer, in some places) under orders to shelter at home to slow the spread of the coronavirus, things are getting a little dire in the entertainment department. By this point, most of us have already finished Tiger King. We're collectively ready to give up on home schooling the kids and working from home. What are we supposed to do, something productive like working out? Think again. Time for another puzzle, I guess.
Puzzles have had something of a resurgence, now that we're all locked in our houses and have nothing to do — imagine that. But eventually, famous paintings, landscapes, and scenes from pop culture just don't get the job done anymore. If you need more of a challenge (and a way to pass even more of the time in quarantine), then do we have the puzzle for you.
Buckle up — it's entirely clear.
Etsy seller LittleFlowerPotShop makes custom puzzles that have no pictures at all — they're totally clear. Yep, that's right. No colors or lines to guide you, no piles to sort out sections so you can do them one at a time. This might just be the most difficult jigsaw anyone has ever come up with.
The clear puzzles come in a variety of sizes, starting with 9 pieces, then going up to moderately hard with 25 pieces, almost-too-hard with 49 pieces, and complete freaking insanity with 144 tiny pieces. The 144 is what you order when you've truly run out of things to do and have not a single F left.
Yep, those are half-inch pieces of clear acrylic that you're expected to put together in the correct way to create a square. Best of luck to you, may the odds be ever in your favor.
The puzzles are all custom made by the Etsy seller, and the hardest ones are (maybe thankfully) sold out right now. But a note on the page says they should be back in stock sometime in April, and if this quarantine lasts a few more weeks, we just might all be bored enough (or nutty enough) to order one and risk a giant family fight. The other sizes start at $17, so you can start practicing for the big one once it's back in stock.
This article was originally published on