Climbing Trees Is Safer Than Organized Sports
by Christine Organ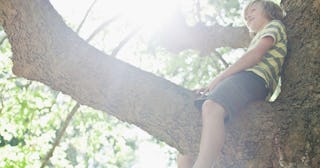 Hybrid Images/Getty
A couple weeks ago, I shared a photo on social media of my youngest son — who just turned nine — climbing to the tippy top of a tall tree in our backyard. Some people were surprised, but the truth is, he's been climbing to the top of this tree for several years now. I've long since stopped telling him to "come down" or "don't climb so high," and now I just remind him to make smart choices. Truth be told, I'm proud of him for climbing high and doing seemingly "risky" things.
Tree-climbing is a quintessential childhood activity, right up there with playing Ghosts In The Graveyard with neighbor kids on a hot summer night (which my kids also do regularly) and running through sprinklers and building snow forts. This is especially true for those of us, like me, who identify as '80s kids when we frolicked in the neighborhood until it got dark.
For some reason, though, there seems to be less tree-climbing these days. Even parents who themselves grew up swinging from branches as kids seem to discourage it. In fact, the mere thought of a 5-year-old climbing to the top of a tree, unsupervised, might send chills down most parents' spines. Some might even say I'm careless at best, or negligent at worst, for allowing such behavior.
I suspect it has a lot to do with the fear of what others will think of us. Truth be told, I do worry about whether other parents will think of my laissez faire attitude to risky play. But I think it also has to do with that inherent fear that all parents have — the fear that causes our heart to stop and visions of worst case scenarios to run through our heads.
I've learned to manage these fears by developing an IDGAF, free-range-ish attitude to parenting. It helps that we live in a neighborhood with parents who also tend to share similar views. When that heart-in-my-stomach fear grabs hold of me when I see my son atop a tall branch, I often turn around and look away.
But also, I remind myself that the risks of serious injury are actually quite small. In fact, Rain or Shine Momma points to a 2016 study, stating: "Researchers surveyed 1,600 parents who let their children climb trees and found that the most common injury by far was scraped skin. Only 2 percent of the parents responded that their child had broken a bone and even fewer had suffered from a concussion. Meanwhile, more than 3.5 million American children under the age of 14 receive medical treatment for injuries from organized sports every year."
That's right. Organized sports — which many parents encourage — are more dangerous than climbing trees.
And we aren't just talking about skinned knees and broken bones. We're talking about serious, lifelong injuries, especially when it comes to sports like football. Research from the University of Washington Medicine's Sports Health and Safety Institute and Seattle Children's Research Institute found concussion rates among football players ages 5 to 14 were higher than previously reported, with 5% of kids sustaining a football-related concussion each season.
When I hear studies like this, I feel like we dodged a bullet. About five years ago, my then-7-year-old begged to play tackle football, calling me a "dream killer" when I initially said no. After going back and forth about it with my husband, and in my own mind, we ultimately decided to let him give it a try. Fortunately, a few days before the season was set to begin, he decided on his own that it wasn't for him. And I breathed the hugest sigh of relief.
Because, let's face it, the data has been piling up over the past few years, and it's not good.
As parents, we draw the line at a number of things we deem unsafe, regardless of how smart our kids are about managing those risks. We don't let small children run in the middle of busy streets. We don't let them ride their bikes without a helmet. As they get older, we teach them about the dangers of alcohol and drugs. Each of us has to find the line that we feel comfortable with. But as we're making those decisions, it's important to actually consider the facts. And factually speaking, it is safer to climb trees than play sports. Yet I feel perfectly fine letting my kids play organized sports, baseball and basketball specifically.
But even aside from the fact that it is quite safe to climb trees — and engage in other seemingly risky play, for that matter — it's good for our kids. It helps them learn how to safely manage dangers and responsibly take risks. When we encourage this type of activity, we are telling them — not just with words, but with actions — that we trust them and they are capable. This isn't just my parental opinion either; science says so. In fact, many experts support the emotion regulation theory of play, which is really just a fancy way of saying kids learn how to regulate their emotions through play.
So calm down, Janice. And stop giving parents side-eye for letting our kids do something that makes you a little nervous. Bite your tongue when you want to shout "be careful" or "not so high." Encourage your kids to go higher, farther, and do all those things you're afraid they can't do — even if it does mean you'll be holding your breath and trying not to freak out.
We can't bubble wrap our kids — nor should we want to. They're gonna be fine if they climb trees. In fact, they'll be better off for it.
This article was originally published on