Clinique Crayola Lipstick Is A Thing And You're Going To Want It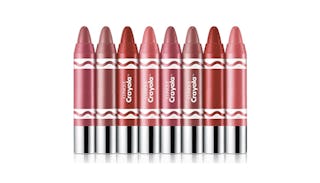 Image via Clinique
Clinique and Crayola collaborated on some "crayons" we all want
If you've never tried a Clinique "Chubby Stick," you're missing out. They moisturize, they have lasting color, and they're tougher than a lipstick tube — i.e., they can survive a run-in with your toddler.
We didn't think we could love them more, until one of our favorite beauty products teamed up with Crayola for the cutest make-up collaboration, ever: Crayola™ for Clinique Chubby Stick™ For Lips and Crayola™ Chubby Stick Intense Moisturizing Lip Colour Balm.
Want. Just… want. Yes, we are sold on the adorable packaging, but it's also an awesome selection of colors. The Chubby Stick comes in Wild Strawberry, Razzmatazz, Mauvelous, Mango Tango, Melon, Pink Sherbert, and Tickle Me Pink.
The Intense Moisturizing Colour Balm comes in Red Violet, Brick Red, and Fuzzy Wuzzy.
They're $17 each, or you can buy limited edition mini sets of four for $25.00 and eight for $49.50:
They're only available until February, so if you want to get your hands on some head over to Clinique.com.
This article was originally published on