This Kid's Clothing Company Is Pushing Back Against The 'Boys Will Be Boys' Stereotype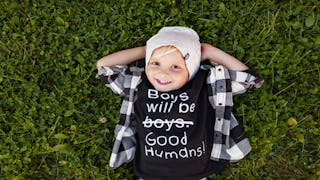 We've all seen them. Old Navy, Nordstrom, Marks & Spencer, and Forever 21 — among others — have all offered shirts proclaiming that "Boys Will Be Boys." Not bad in and of itself, but it's a phrase traditionally used to excuse bad behavior, right? Hit any major retailer, and you'll find shirts that say "Ladies' Man," "Mom's Little Rebel," "I'd Flex But I Like This Shirt," "100% Beast," "You're Not on My Level."
But unlike the rest of us, Courtney Hartman wasn't ignoring them' she was getting annoyed. If boys' shirts weren't actively encouraging antisocial behavior, they were all about sports and competition. She couldn't see her kind, gentle son Declan wearing any of it.
So in July 2015, while working at Amazon, she made her first design: a shirt that read "Mr. Nice Guy," because as she says, "There was nothing I saw that said my son was a kind and sweet person." And Free to Be Kids was born. Hartman kept making designs, and in 2016, left Amazon to run Free to Be Kids full-time. Her company "battles negativity and gender clichés in children's clothing with positive messages and stylish, on-trend design."
She admits that while they carry a kickin' girls' line and even adult shirts (she's partial to the Love Yourself collection), her heart lies with the boys' shirts. "Boys are expected to be tough and competitive," Hartman said. "Happiness comes from goodness to me. We're not fair to our sons when we teach them they don't have to be good people. I feel exceptionally passionate about the boys' clothes because I don't see those issues being addressed."
Here's what she means: Some kids like cats. My 5-year-old, August, is obsessed with cats. When he finds them, he leans down and coos at them in a soft voice. He talks baby-talk, kitty nonsense. August has two shirts of his obscure favorite dinosaur. His shirts sport alligators and sharks and our college team's beloved rooster mascot. But despite his love for felines, August didn't have a cat shirt because, as we all know, cats are coded girl — every cat shirt has cap sleeves.
So when we found Free to Be Kids dancing kitten shirt with the words "I'm a Cat Guy," August did the fake-faint thing that means he's overcome with happiness. Here was something that said he was allowed to like fluffy kittens too. We can hardly get it off him to wash.
When I told Hartman, she wasn't surprised. "Why wouldn't boys like cats?" she said. "I've heard from so many people that their boys are so like, 'Oooh,' over that shirt. I thought to make it explicitly a boy's shirt because it's not just a cat shirt, it's a cat shirt for boys. Anything cute and fuzzy is for girls, and anything ferocious is for boys. And I think they should have access to both sides of themselves."
She also thinks we should actively combat that toxic masculinity. Free to Be Kids shirts turn those messages on their heads: Boys won't be boys — "Boys Will Be Good Humans." One shirt proclaims "Feminist Like Daddy" and another "Love Is My Superpower." They encourage boys to be kind like daddy and tough like mommy. There are butterflies and my 3-year-old son's beloved bunny shirt. It's a relief to put my kids in clothing with messages I agree with. And it's amazing to see them get so excited about wearing animals that are traditionally gendered female.
Hartman said that she made the first "Boys Will Be Good Humans" shirt and sent her son to school wearing it on the day the tape of Donald Trump's misogynist, icky, and just plain wrong "grab 'em by the pussy" tape hit the news. She had no idea it was going to happen, of course, but as her son hopped out of the car, she snapped a photo of him and made it into a Facebook ad. It read, "May he never, ever dismiss degrading talk about women as 'just locker room talk.'"
That, she said, is when her business really took off. "I feel like the silver lining of the Donald Trump presidency because people are a lot more aware of toxic masculinity and the need for feminism again," she said. And it is one of the reasons she carries a black shirt that simply reads "Feminist" in gold, sparkly letters. It's in both the boys' and girls' sections.
Hartman's commitment to social justice doesn't stop there. All their shirts are guaranteed free of sweatshop and child labor. They use "eco-friendly, water-based inks" to screen-print the blank shirts, and every employee makes at or above Seattle's $15 minimum wage, even though businesses of Free to Be Kids' size aren't required to pay it. They offer paid sick leave and vacation time. "It would be ridiculous to put slogans about ethical behavior on shirts made with sweatshop labor," Hartman said.
She tries to keep the shirts affordable — around the price you'd pay at Gap Kids — and is working to bring prices down even further. At $16.95, the price of August's beloved cat shirt, Free to be Kids merchandise is already less than other boutique T-shirts on the market. And the company is growing, so much that they have to carefully control it. While they used to release a new design every month or so, they'll be coming out with their first official collection this fall.
"I get a lot of feedback from parents," she said. "I get a lot of 'This is my son's favorite shirt,' and 'Now that my son can read, he's wearing these shirts even more often.'" I tell her that I saw a recent sale on Paw Patrol back-to-school stuff, and that the boys' merchandise (coded blue, of course) didn't include the female characters. I lamented that my son would have liked to see Skye, the girl cockapoo who flies a helicopter.
"I hear all the time that the girl characters are never included in the boy stuff and vice-versa," she said. It makes her sad, and she ponders what boys are missing through practices like these. "There were boys shirts for Inside Out on the Disney site," she tells me. "The only feeling you could get for boys was Anger. All the other feelings were for girls."
And that's what she and her company are changing — one screen-printed tee at a time.