This Clown Motel Is For Sale In Case You Want Nightmares Forever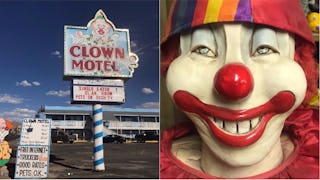 Image via Instagram/Clown Motel
We're not clowning around here
If you're the sort of person who's into clowns, listen up. One, we will never be friends and two, there's a creepy as fuck motel that can now be yours if you have an extra $900,000 lying around.
The Clown Motel, located in Tonopah, Nevada between Reno and Vegas, earned its name because of its collection of both antique and modern clowns on display throughout the property — over 500 clowns to be exact. Each room has clown prints and paintings as well, and some even have clowns hanging above the beds and now I'm going to curl up in a corner and die.
https://www.instagram.com/p/BWq4vxrHmad/?taken-at=588113662
Bob Perchetti, the motel owner for the past 22 years, decided recently to hang up his clown shoes and put the motel up for sale. "I'm going to go fishing. I want to go enjoy myself," Perchetti told Las Vegas Now in a video I couldn't watch on account of all the clowns. But a condition of the sale is that the Clown Motel must stay true to its heritage which means the clowns can't go away and Bob will know if you don't heed his warning. "Oh, I'm going to miss the clowns. I'm going to come back. I'm going to come back and visit my clowns," Perchetti said.
That should help us sleep soundly.
The motel would be the perfect getaway for that one friend who dresses up as a clown on weekends (we all have them) or doesn't live in actual reality. We guess we don't need to actually clarify the "dressing up" part because every clown is just a regular person underneath, right? Right? THERE IS NO SUCH THING AS A REAL CLOWN.
Jesus, Mary, and Joseph.
Make it stop.
According to their Facebook page, they have a total of 31 rooms, both smoking and non-smoking. And if you weren't a smoker before you arrived, chances are you will be when you leave. Each room is equipped with two queen sized beds (one for you and one for the clowns?), and sits next to a cemetery because things can't possibly get any worse except yes they can.
It seems visitors had mixed reviews:
This one was written by a serial killer waiting to lure their next victim:
"Killer motel. Been waiting to stay here and it did not disappoint. If you like clowns, great!! If you don't, even better. With the old Tonopah cemetery next door, Area 51 nearby and reports of hauntings, what could be better. Fun all around."
If you thought things couldn't get any worse:
"I was delighted with this motel. Definitely a novel experience. Barring the transparent creepiness, the locality is infested with black cats and the cleaning-man wears clown pants!"
Come for the porn, stay for the clowns:
"This is a no frills place, but the staff is great. One reviewer said a porn movie was being shot here when they came…last night the parking lot was full of patrons and no porn movie was being filmed. I still don't like clowns."
This is what happens when you don't listen to your mom:
"So we stopped in town with nowhere to stay, my Mum said under no circumstances are we staying at "The Clown Motel." Well at $30 a night, we ended up there. I walked into the reception, if you're not scared of clowns, you will be after a visit in here."
So bring a friend who's into clowns, or not (you know, just to be a dick), and let the adventure begin.