This Adorable 'Clueless' Lip Gloss Will Have You Totally Buggin'
by Thea Glassman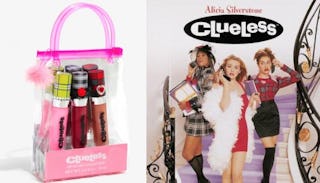 Image via BoxLunch/IMDB
A Clueless lip gloss set exists and Cher would definitely approve
Okay, Clueless fans, prepare to channel your inner Cher, Dionne, and Tai immediately. There's a lip gloss set inspired by the iconic 90's film and it's ridiculously adorable. Warning: after you buy this, you may want to make out with Paul Rudd (aka your confusingly cute stepbrother).
Meet the Clueless Totally Buggin' Lip Gloss Set. It features pink, red, and nude lip gloss, and is designed to look like Cher and Dionne's signature plaid skirts. Also, it's packaged in a clear mini handbag with a pink pompom that looks exactly like the pen Cher used to get Christian's attention in that one scene (no you've rewatched Clueless too many times).
Does just looking at this lip gloss make you want to play "Rollin' with the Homies" on repeat until everyone in your family asks you to please stop? Yup, me too.
If you want to complete your transformation into a total Betty, you should also probably snag this Clueless Totally Buggin' Eye Shadow Palette. It's packed with matte and glitter shades, which are named things like "Ugh, As If," "Whatever," and "Makeover." Don't worry, you will not look like a total Monet when you load up on all of that sparkly glitter. Christian would fully approve.
Now, let's dive into a whole lot more pop culture beauty-themed products. After you put on your Clueless lip gloss, you can complete the look with Marvel Avengers: Infinity War Infinity Stones Eye Shadows. It's inspired by Marvel's six Infinity Stones and features shades like Reality (fiery red), Soul (coppery orange), and Time (galactic green). Also, everything comes in a whole lot of metallic shimmer.
We can't forget about your lips and cheeks. Get all the rosy glow with Besame Cosmetics Disney Snow White And The Seven Dwarfs Rouge. It's totally blendable so can be used as a blush or a lip stain. Also, the tin is very, very cute.
While we're on the Snow White beauty train, I'd like to direct your attention to this mini lipstick set which pays homage to all seven dwarves. Each color was matched with the original color palette provided by Disney's Ink and Paint Department, so you're getting a very legit makeup experience.
If you need something cute to carry all of your brand new pop culture swag in, look no further than this Harry Potter cosmetic bag set. It's Hogwarts themed and will make you want to head to Platform 9 and 3/4 immediately.
Here's hoping all this very cute makeup will make your morning routine a whole lot more fun. In the meantime, Paul Rudd can come visit anytime.