CMT Is One Of The Most Commonly Inherited Neuro Disorders -- Here's What It Is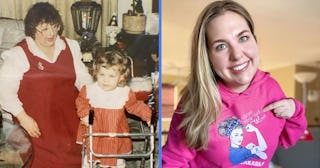 Courtesy of Holly Garcia
Raise your hand if you've ever heard of Charcot-Marie-Tooth disease (CMT). Yeah, that was me too for a very long time. Which is crazy since it's one of the most commonly inherited neurological disorders. CMT is a "group of inherited disorders that cause nerve damage," according to the Mayo Clinic. It mainly causes damage in the arms and legs. Like many other invisible illnesses and chronic conditions, there is very little awareness about what life is like to live with them.
So, how did I stumble upon CMT? Well, about three years ago, I turned to YouTube to find a channel to inspire my umpthzillionth Weight Watchers journey. That's when I found Brianna's channel Diva and the Divine. Little did I know she would inspire so much more than weight loss. Although it wasn't the channel's main focus, Brianna has always been open and honestly discusses her life with CMT.
And in honor of September being CMT awareness month, Brianna had a chat with Scary Mommy about her CMT story, which will absolutely blow you away. Brianna's CMT story is truly unique. She talks about how a misdiagnosis ended up being a blessing because the reality ended up being so much better. We also talk about how she advocates for herself and others and how she hopes other CMTers move through acceptance and come to a place of adapting and can live their best life.
Let's Talk About CMT
Brianna's story is different than most CMT stories. When she was born, doctors misdiagnosed her with Spinal Muscular Atrophy (SMA). Y'all think people aren't familiar with CMT now? Because this was the 80s, even fewer knew or understood it then. Back then, SMA was also a death sentence for most babies. All her family knew was that there was something wrong with their daughter when she didn't move like other babies.
"You know, my family came across my CMT diagnosis by chance. My Dad was at his podiatrist and was asked if he had any neurological disease in our family. My Dad said, well, we have this one daughter we just can't figure out. Turns out the 'family feet' in combination with Brianna's symptoms is what truly unlocked her diagnosis. "The good news was I didn't have SMA. On the other hand, because my CMT manifested with infant onset there were other challenges I would face. Like never crawling and not learning to walk until I was 3."
If anyone could find a silver lining, it would be this woman. Brianna goes on to explain how this ended up being a blessing in disguise. "Because I had to learn how to walk and used aids like a walker or braces, it always felt like an opportunity. Most times, CMT onset really starts taking a toll around my age (34). That's when people are losing the ability to do things they otherwise have done their entire life. The scariest part of having a disease like this can be not knowing how it will progress as time goes on, but I've decided to try and stay two steps ahead."
How is she able to do this? Well, even though her triceps do not function, and she can't straighten her arms fully, this woman still manages to lift weights. She credits Body Pump, Lift 4 by Beach Body, and the ability to adapt workouts to her muscle maintenance so far. "Even though I can't participate the same way everyone else does, it's still an incredible workout and makes me feel good and strong! I mean, I can lift a barbell! I started with 1lb weights but have increased my strength by leaps and bounds. Do you know how awesome that is?"
What People Need To Know About CMT
The truth is, being able to adapt in this kind of way is amazing. This is the same person who has difficulty opening jars or even applying enough pressure to a sponge to get all the crumbs on the counter.
"I constantly find ways to adapt, so I can do things that able-bodied people wouldn't give a second thought to." She illustrates her point with an example of her sister-in-law witnessing her leverage one arm to move the other forward so she can reach something. "She told me, I never realized how you did things. How differently you have to do them." And that's coming from someone who has been a part of her life for 8 years.
Here's the thing about CMT, as well as other chronic conditions. Unless you are faced with them day to day, you aren't aware of the adaptations required to manage life with the disease. We asked Brianna what she wanted people to know about CMT.
"For the people who have CMT, or other chronic conditions, I want them to know on the other side of acceptance is the ability to adapt. Just because you live with CMT doesn't mean it can't be an enjoyable existence. On that same note, it's also important to honor your body. People who don't live this won't understand how real chronic fatigue is. Like something as small as showering is exhausting. It really wears me out. But it's not because I'm lazy. It's because it takes me more energy to do what everyone else does."
Brianna is an inspiring example of someone who is not only surviving but thriving with CMT. She runs a YouTube channel, has a wellness coaching service, and moderates an incredible community dedicated to healthy living and all things lifestyle. What can't she do? Most importantly, her advocacy for herself and others makes a world of difference. Thankfully, it doesn't have to be September to bring awareness to CMT. So go ahead, educate yourself. Get familiar and get comfortable with having conversations about CMT and other conditions that we know exist but don't talk about enough. After all, that's how we make change.
This article was originally published on