11-Year-Old Girl Thwarts Would-Be Kidnapper By Asking For The 'Code Word'
by Valerie Williams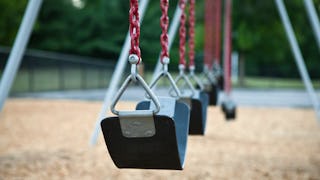 Image via Istock/Getty Images
A young girl stopped her own kidnapping by using a "code word" previously agreed upon by her parents
In a sobering lesson for parents, police are saying that an 11-year-old girl stopped her own possible kidnapping by asking for a "code word" from a man who told her to get into his vehicle.
This is terrifying, but so important.
The child's mother, Brenda James, tells Fox 10, "We came up with a code word, and this one time, it saved my daughter's life."
On Wednesday, the mom received a call from her daughter that would make any parent's blood run cold. "She told me that a guy tried to take her," said James. The girl was screaming and crying after being stopped at an Arizona park by a man who told her a bogus story about a family emergency in order to try to get her into his car.
The Pinal County Sheriff's Office posted details of the kidnapping attempt on Facebook. "At 3:45 p.m., an 11-year-old girl was walking with a friend near a park in the neighborhood when a man, driving a white SUV, pulled up next to them. The man told the girl that her brothers were in a serious accident and she needed to go with him. The child asked the man what the 'code word' was, but he did not know it and drove off."
"Kudos to the parents of this child for having a code word and talking about to their children about stranger danger," said Sheriff Mark Lamb. "We hope by putting this out, it will encourage parents to have that conversation and create a plan with their children, so they know what to do if they are in that situation."
It was later discovered that other children had seen the white SUV circling the park more than once. The man also reportedly covered his face with his hand while trying to lure the girl into his vehicle in order to conceal his identity. The suspect is described as "a white male, possibly in his 40s, with a short beard."
Even though it's a rarity for a child to be kidnapped by a stranger (less than 1 percent of kidnappings are stereotypical stranger abductions that make the news most frequently) James is thankful she had the conversation with her child and established their code word, just in case.
"I never thought it would be used, but I'm proud of her for remembering that and knowing to use that," said James.