Codeine And Other Opioids Are Dangerous For Kids, But Some Doctors Are Prescribing Them Anyway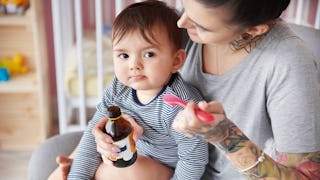 Anna Bizon/ Getty Images
As the oral surgeon explained the extensive tooth extraction procedure my daughter needed, my first thought was pain management.
When I was her age, I had to endure multiple painful surgeries and tooth extractions because my teeth wouldn't fall out on their own. I can remember breathing in the sweet smelling nitrous oxide and still feeling immense pain as the dentist extracted my teeth. To this day, I still panic when I'm in a dentist's chair because dental pain management wasn't what it is today.
RELATED: 9 Ways To Treat A Toothache At Night So You Can Actually Get Some Rest
And so, as he detailed the procedure and recovery time, I asked questions about how she'd be made comfortable not only during the surgery, but in the days afterward.
While my daughter's pain management is my daughter's utmost priority, I admit I was surprised to learn that we'd be going home with a prescription for a narcotic after she was released from the recovery room. The doctor explained that patients were given prescriptions for narcotic analgesics, specifically opioids like codeine, in case their pain was not managed with over-the-counter medications.
Seriously? Cue all the alarm bells.
The opioid crisis in this country is an all-time high. According to the CDC, "overdose deaths from opioids, including prescription opioids and heroin, have more than quadrupled since 1999. Overdoses involving opioids killed more than 28,000 people in 2014. Over half of those deaths were from prescription opioids."
And that is what will keep me from giving an opioid to my daughter after her surgery.
When I questioned the doctor about prescribing opioids for children after simple medical procedures, he told me that most patients do well with over-the-counter medications, but his practice sends patients home with an opioid prescription "just in case."
I'm sorry, but nope. Nuh-uh. No way.
Particularly since the Food and Drug Association warned last year that medications like codeine and tramadol can cause life threatening breathing issues in young children. Because young children can break substances like codeine and tramadol down to their active forms faster than adults, opioid levels in their blood can rise too quickly, causing immediate difficulty breathing. The FDA has strengthened their warnings on codeine because the risk to children is so high, and tramadol is not FDA approved for use in children.
The American Academy of Pediatrics called for a formal restriction of codeine use in children in a study published in Pediatrics in 2016, which points out that codeine is still available in over-the-counter cough remedies in 28 states, as well as the District of Columbia. The researchers also call into question the efficacy of codeine in actually treating pediatric pain.
Basically, codeine — whether used for pain management or cough relief — has proven to be ineffective for children, and parents should be aware of its dangers.
Of course, no one wants to see their child suffer in pain. Medical procedures are scary enough as it is, without the compounding issues of pain and swelling, particularly late at night when no one in the house is sleeping. Parents often want a quick fix that will knock out their child's pain quickly.
Unfortunately, codeine is proving to be a dangerous quick fix for our kids.
With regard to dental procedures, researchers published data in the Journal of The American Dental Association, which shows that over-the-counter medications without codeine, like Tylenol and Advil, actually are more effective in relieving the pain of dental work. Advil, a non-steroidal anti-inflammatory drug also known in its generic form as ibuprofen, works in the body to decrease the inflammation at the surgical site. And since inflammation is often the biggest culprit for pain after dental surgery, the appropriate dose of ibuprofen will most likely result in great pain relief than a narcotic.
Even though Tylenol doesn't have anti-inflammatory properties, it works in the body to block the pain response the brain perceives. And both Tylenol and Advil are inexpensive and widely available, making both an overall better choice for parents helping their children manage pain. Often, doctors will prescribe a regimen that combines both medications on alternating schedules, thereby managing a child's pain without the use of harmful narcotics and opioids.
While I am nervous that my daughter will have a painful recovery after her dental surgery, I am heeding the warnings of the FDA, AAP and the ADA when it comes to choosing the right pain management medicine for her. The risks have been proven to be too great and I'm not willing to put her health in jeopardy by administering a potentially harmful medication when alternatives will be just as effective. And I will be mindful in the future about checking labels on cough medicines to ensure that my kids stay safe when they are sick.
When my daughter has her oral surgery, we will be sticking with over-the-counter medications, ice packs, and extra cuddling as she recovers.
Oh, and lots and lots of ice cream. For both of us. I'm sure the FDA would approve.
This article was originally published on