10 Gifts For Your Coffee-Obsessed Best Friend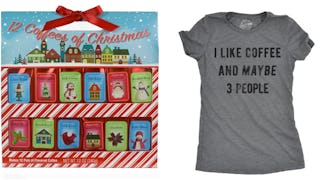 Images via Walmart
These gifts will make your coffee-obsessed best friend very, very happy
Sometimes it's hard to figure out what to buy your best friend for the holidays. If your BFF is a major fan of coffee, then the search is going to be a whole lot easier (and, dare we say it, a whole lot more fun). These gifts are guaranteed to send your coffee-obsessed bud on the happiest of caffeine journeys.
This super sleek, stainless steel coffee press comes with a double wall that will keep coffee nice and hot. It also has a silicone lid, so you can drink directly from the top. So, basically, it's a two for one coffee press + mug, which means some dreams really do come true.
If you're going to buy your BFF a coffee maker, it might as well be one that has the best ratings at Walmart. It'll make coffee in under a minute, the brewing process is super simple, and it works for multiple cup sizes. Also that cherry red color isn't too shabby either.
This is quite possibly the ultimate gift basket for the coffee lover in your life. It comes complete with two selections of Starbucks ground coffee, tea, biscotti, cookies and a Starbucks mug. Now all you need to do is set up a time for a cozy coffee and cookies party.
Is your BFF the super fancy kind of person who actually wants to grind their own coffee beans? You're going to want to get them this Hamilton Beach Coffee Grinder, that comes complete with durable, stainless steel blades. It's also designed to be a whole lot quieter than other coffee grinders, so nobody in the house is going to wake up all cranky in the morning.
This coffee maker comes complete with glowing reviews, is very easy to clean, and can make 2 to 6 cups in as fast as a minute each. Because nobody has time for anything in the morning except a really quick, easy cup of coffee.
Help your best bud count down the days until Christmas with this coffee kit, complete with twelve different flavors (including Italian Roast, Chocolate Almond, French Roast, Crème Brûlée, and Hazelnut). Move over advent calendars, this is where the real holiday cheer is really at.
Bring on all the caffeine and chocolate-y goodness. This gift basket comes with three gourmet coffee selections, cinnamon & brown sugar kettle corn, and caramel chocolate chunk cookies. Are you drooling yet? Same.
This coffee maker is a Walmart bestseller and it's pretty clear why. It's super sleek, durable, and will make you a damn good cup of coffee. Your BFF's mornings just got so much less annoying.
Make your bud's morning even easier with this Starbucks gift box. They can skip their usual coffee run and enjoy some super delicious blends (and biscottis!) from the comfort of their home.
I mean…has there ever been a more accurate statement?
Prepare for your best friend to love you 'til the ends of the earth for these. In the immortal words of Lorelai Gilmore, we could all use some coffee, coffee, coffee.
We are a participant in the Walmart.com Affiliate Program and may earn fees by linking to Walmart.com and affiliated sites.
This article was originally published on