20 Gifts For The Coffee Lovers In Your Life
by Team Scary Mommy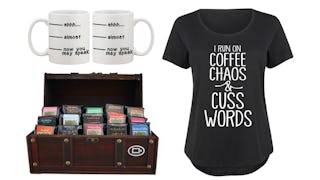 Images via Walmart and Amazon
Coffee lovers know that there's no better start to the day than that hot cup of deliciousness.
Coffee never asks questions, because it understands. You know who never makes me talk at all in the morning? Coffee.
No matter how they drink it, coffee lovers can't imagine their lives without it. Whether they're a true coffee snob, or just need the caffeine to function because they're a parent, we've got you covered with these 20 gifts for the coffee-obsessed:
This vacuum-insulated Stainless Steel Thermal Carafe looks sleek and will keep your coffee nice and warm while you brew the next pot.
A "May Your Coffee Be Stronger" Tee is the perfect gift for any mom raising a toddler, or anyone who has raised one and made it out alive.
This affordable Espresso and Cappuccino Machine is a best seller for a reason. This is a great deal if you don't already have one.
The World Atlas of Coffee has everything from overviews of the world's most vibrant coffee-growing regions, to step-by-step brewing tutorials. It's a must-have for java lovers around the globe.
This Around the World Variety Pack is a great gift set to go with that atlas, introducing people to 12 types of coffee from around the world.
Name a better kind of treasure than a Treasure Chest of Coffee. Go ahead, I'll wait.
Every coffee lover needs this "Now You May Speak" Mug to say the obvious for them: that we can't talk until we've had at least one full cup.
A Coffee Ice Tray is perfect for freezing coffee, so you can add them to your drinks without sacrificing any flavor.
This Cold Brew Maker is another bestseller. Cold brew coffee is made by soaking coffee grounds in cold water for 12-24 hours, creating a concentrate that can be used for hot or iced coffee.
A Travel Coffee and Espresso Maker is the perfect gift for any coffee lover who needs to get their caffeine fix on the go.
This Insulated Travel Cup with Lid and Straw is another great option for people who like to drink their coffee on the run. (Hipster glasses not included.)
The "I Just Want to Drink Coffee" Tee is a must-have for any person who loves cats almost as much as they love coffee.
A Personalized Photo Color-Changing Mug is a great opportunity to give a sentimental gift that they'll use every day.
This Manual Grinder is a great gift for coffee lovers because freshly-ground beans just make better coffee. It's science.
A Caffeine Molecule Necklace is perfect for the caffeine-obsessed who can appreciate a cute rose-gold necklace. And it's currently on sale for $14.80. (Original price: $39.00)
Whiskey & Rum Barrel Aged Coffee is a great gift for anyone who loves coffee and booze. It includes Single Malt Whiskey, Rye Whiskey, and Rum barrel aged coffee.
This "I Run On Coffee and Cuss Words" Plus-Size Tee comes in a flattering cut and is highly relatable for most Scary Mommies.
An Airless Storage Canister should be a staple for any coffee lovers who want their coffee beans to stay as fresh as possible.
These Vietnamese Pour Over Coffee travel packets come with creamers and are a fantastic option for coffee while you camp or are traveling.
This adorable Tumbler and Ear Muff Set is perfect for surviving the rest of winter. Bonus, the ear muffs can be used indoors on any additional snow days with your kids.
No matter what the occasion, you can't go wrong with any of these gifts for coffee lovers. And as any coffee-obsessed person can tell you, it's basically our love language.
We may earn fees from purchases made via links on this page and affiliated sites. All opinions are our own.
This article was originally published on