Coffee Mugs For Moms Who Have No F*cks Left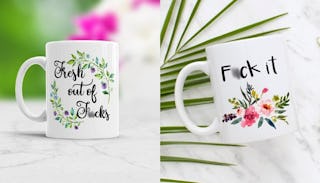 Image via Etsy/VikitoGifts/SweetMintHandmade
You need these profanity-laced coffee mugs in your morning routine
Isn't swearing fun? I can literally feel life being breathed into my veins as I utter one fuck after another. It's fun and makes me feel like the sassy adult I actually am even though I say things like "go potty" and "use your words like a big boy" all fucking day long. That's why these fuck-filled coffee mugs are what every curse-word-loving momma needs.
These sweary mugs are absolutely perfect for those mornings where you can't fucking even (so…basically all mornings?) and they come in a variety of colors and styles thanks to the creative folks on Etsy. Now of course, if your kids can read, things get a little hairy as far as openly using these R-rated pieces of fine china, but that also probably means they're at school during the day so you can bust out your naughty mug the moment the school bus pulls away.
Let's take a gander at the numerous options, shall we?
Ah, look. The phrase I mutter under my breath at least once every single morning before the sun's even up, my life's mantra on a coffee mug.
In case your mother-in-law questions your constantly-cursing ways, dress that shit up with this extremely proper caffeine receptacle that should silence all of her doubts about how well-mannered you are.
If you're ready to say "fuck this shit," here's the cup for you.
And if fuck that shit is more your mood, we have you covered there too.
Millennials of a certain age will love this version of "fuck" that's been in our vocabs since before we could drive. It's wildly satisfying to say and totally appropriate for your morning joe. I can hear Eric Cartman in my head just typing this.
If you're trying to visualize and actualize a day free of fucks given, this mug has an affirmation you should repeat as many times as necessary.
If you're making an effort to change your fucking ways, this mug is a good start.
Or you could roll with this time-honored classic.
Sometimes, you want to express your vulgar feelings while still blending with your decidedly feminine home decor. If that's your speed, this flowery number is for you.
Maybe you'd like to be brief with your thoughts on rising and shining. This perfectly succinct option has you written all over it.
But of course, some of us prefer to keep things simple and get straight to the point.
Whatever your fucking vibe, one of these mugs oughta do it. Fucking enjoy!