These Coffee Mugs Say What You're Thinking, So You Don't Have To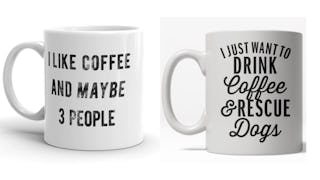 Walmart
There are a lot of people out there making life more complicated than it needs to be, but you can't just yell, "Get your shit together, Janet!" every time you bump into one of them, because social etiquette. So instead, we bite our tongues and sip our tea (or coffee) like Kermit the Frog.
Fortunately for us, these on-point coffee mugs let you send a message without ever opening your mouth. Here are 18 mugs that let the world know exactly how you're feeling.
Too early for all those words, Janet. Too early.
The closest thing to heaven on earth. Besides our kids and families, and stuff.
Are you sure you really want to roll those dice?
What? It's just a super-cute fox mug.
Don't act like you don't think about things like this when you're supposed to be paying attention in a meeting.
This coffee ain't workin' yet, so neither are we. Just sayin'.
Don't come to us later acting like no one told you. It says so right there on the mug.
It's in your best interest to just stay out of the way.
Honestly, that's probably still too much.
So, no, we don't have a free night until sometime in 2024.
Just wanted you to know where you stand, Janet.
In a committed relationship with tacos.
Might be. Could also be wine. Hard to say.
Hey guys, look at this punny mug!
Yeah, that basically sums it up.
Don't threaten me with a good time, I'm a wild animal.
Oh, and tacos. We like those too.
Careful, though, it's still risky until the second cup.
Anyone else dying to take a few of these to the office? Just us? Whether you put these mugs in your cabinet, or carry them proudly into the next staff meeting, they are sure to bring you almost as much joy as the coffee they hold.
We may earn fees from purchases made via links on this page and affiliated sites. All opinions are our own.
This article was originally published on