Autistic Boy Moved To Tears During Coldplay Concert, Rest Of World Moved To Tears Watching Him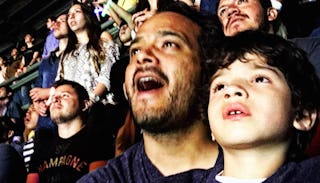 This boy with autism had the most incredible reaction when Coldplay performed his favorite song
There's nothing quite like the moment an artist starts playing your favorite song during a live show, but for one young boy with autism, the experience of watching Coldplay perform their hit "Fix You" was so incredible, he was moved to tears.
In a YouTube video shared by dad Luis Vasquez, the six-year-old boy is seen skipping into the April 16 Coldplay show in Mexico City. The footage then cuts to later in the evening when the band starts playing "Fix You" — a song about overcoming adversity — and the little boy bursts into tears and wipes his eyes before jumping up and down and getting lost in the music. Check it out:
The video ends with the little boy and his dad embracing as the crowd around them sings, "Lights will guide you home, and ignite your bones, and I will try to fix you." It's really beautiful, and the little boy's emotional response is so moving you can't help but feel wrapped up in the moment too.
In the video's caption, Vasquez writes that he shared it because he felt like Coldplay and the whole world needed to see it. Amazingly, the video has racked up over 2.8 million views and Coldplay did end up watching it. In fact, they tweeted the video to their followers and wrote, "This kind of thing makes it all worthwhile. Hola Luis y tu hijo hermoso! (Hello Luis and your beautiful son) Love."
I'm not crying. You're crying.
Vasquez' video is an amazing testament to the power of music, but also to the incredible bond between father and son. As one commenter writes, "This is the most beautiful thing I've ever seen!! As a father of a 5 year old boy I hope to be able to have an experience like this with my son. The power of music is amazing. You should be an inspiration to all fathers out there."
This little boy and his dad share a moment that is so pure, it transcends everything else going on around them, and you can't help but feel moved just by witnessing it. It's a beautiful portrait of unconditional love, acceptance, support, and admiration, and like Coldplay said, it's what makes everything worthwhile.