Colin Hanks' Story About Meeting Luke Perry Shows Exactly What Kind Of Man He Was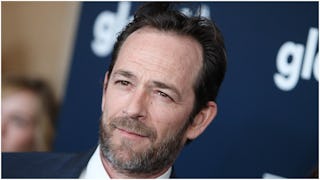 Image via Getty/Leon Bennett
Colin Hanks shared a sweet story about meeting Luke Perry on a plane
Tributes have been pouring in for Luke Perry, who died on Monday after suffering a stroke last week. Friends and co-stars are sharing loving memories about the actor and remembering the kind, generous way that he lived his life. One story in particular has struck a chord across the internet, and it revolved around Colin Hanks, an airplane, and two screaming kids.
Hanks took to Instagram to share the one encounter that he had with Perry. It all started on an airplane, when two kids were beating each other up in one of the rows and the whole thing was a very loud disaster. "Their poor parents are powerless to stop the crying, yelling and screaming," he recalled. "If you're a parent you understand. Sometimes there's nothing you can do."
Then, a man with a hat and beard approached the two kids, blowing up a balloon. "He ties it off, hands it off like he's holding out a sword to a king. Kneeling, Head down, arms up. Kids calm down in milliseconds," Hanks recalled. Suffice to say, that mystery man was a real hero for the rest of the passengers and the plane "damn near burst into applause."
It wasn't until Hanks and his wife got off of the plane that he discovered the balloon hero was Luke Perry. "As luck would have it we end up standing next to each other,'" he wrote. "…I start singing his praises about how long I've admired him and also about the move with the balloon."
Perry informed Hanks that he always boarded airplanes with a couple of balloons on him, in case there were screaming kids who needed some distractions. "Guy seemed like a true gent. Gone way too damn soon," Hanks concluded. "Also, I'll be damned if I don't start traveling with some spare balloons."
That was one of the many, many stories that were shared about Perry's kindness and thoughtfulness. Filmmaker Josh Raby took to Twitter to post pictures of Perry helping out during a flood in Tennessee.
"Y'all might know Luke Perry had some land here in Tennessee," he wrote. "Maybe you don't know that during the flood of 2010, he was out there bringing people food, bottles of water, and shoes. Just a humble, decent dude."
Gabrielle Union chimed in with her own story, sharing a sweet encounter she had with the actor on an airplane.
"Hey @OfficialKimora remember when we were on that flight w/ #LukePerry & we fangirled so hard & asked him EVERY 90210 question? He was the perfect gentleman & heartthrob," Union wrote. "He was kind when he probably just wanted to sleep. And he switched seats so we could sit together."
Comedy writer Eva Fay added that Perry even used to change his next door neighbor's lightbulbs.
And Perry's Riverdale co-star Mädchen Amick capped all the stories off with a loving Instagram tribute to the actor.
"I'm absolutely heartbroken of the news that we lost someone so incredibly special. Luke had become a dear friend," she wrote. "…I knew that he was always there for me no matter what. He was an incredibly loving and generous man. My thoughts and prayers are with his family right now. I will love you forever Luke."