Colin Kaepernick Is The Face Of Nike's New 'Just Do It' Campaign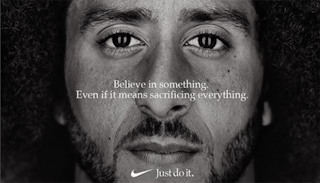 Image via Nike/Twitter
Kaepernick joins other athletes in representing Nike for the 30th anniversary of their "Just Do It" campaign
Activist Colin Kaepernick hasn't played for the NFL in more than a year, but that hasn't stopped sporting apparel company (and supplier of uniforms for 32 NFL teams) Nike from choosing the former quarterback to be the face of their 30th anniversary "Just Do It" campaign.
The first ad for the new campaign debuted yesterday afternoon when Kaepernick shared the image on Twitter. It features a close-up of his face along with the words, "Believe in something. Even if it means sacrificing everything."
Kaepernick, who in 2016 began his kneeling protest during each game's playing of the National Anthem to acknowledge the injustice of unarmed black people being killed by police, was joined by a multitude of other players who also started taking a knee. Despite efforts to quell it, the NFL has been unable to stop the players from expressing their belief through peaceful protest and it's resulted in lower television ratings along with plenty of public bluster from President Trump, who famously called the protesting players "sons of bitches."
Knowing all of that makes Nike's clear support of Kaepernick and the movement he started all the more powerful. Knowing that back in March, the company negotiated a deal with the NFL that means all 32 teams will be outfitted in Nike game-day uniforms and sideline apparel through 2028, even more so. They're obviously not afraid to be on the right side of history and as a years-long Brooks running shoe loyalist, I'm now thinking of other items I can purchase to support them.
According to The New York Times, Kaepernick had an endorsement deal with Nike dating back to 2011 that was expiring soon — this new campaign officially renews it. Nike will produce new Kaepernick apparel including a shoe and t-shirt. They'll also donate to his "Know Your Rights" campaign that works to inform youth on "higher education, self empowerment, and instruction to properly interact with law enforcement in various scenarios."
The timing of the ad isn't great for the NFL, and it comes just as Kaepernick's grievance against them for conspiring to keep him from playing football because of his public activism was allowed to advance.
Serena Williams, LeBron James, Odell Beckham Jr., Shaquem Griffin, and Lacey Baker are all part of the anniversary campaign as well. Williams took to Twitter yesterday with a shot of her ad.
Beckham showed his support too.
Many are loudly supporting Kaepernick, Nike, and the other athletes in the campaign.
The NFL has yet to respond to the ad. Nike, for their part, said last fall that they "support athletes and their right to freedom of expression on issues that are of great importance to our society."
This article was originally published on