Video Games To Play With Your Kids That Don't Suck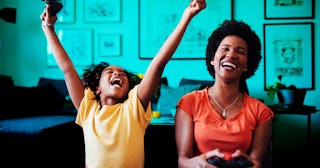 Scary Mommy and Brothers91/Getty
Face it: your kids rack up more screen time than you'd like. Most of us spend our time freaking out, and we spill plenty of ink wringing our hands over it: how much screen time is too much? How badly does screen time damage small brains? How guilty do we feel? How much do others shame us over it? And on and on.
Here's a novel idea: if you can't pry your kids' Switch from their cold, dead hands, why don't you join them? As Joel Willis, editor-in-chief of The Dad and resident gaming expert, told USA Today, "We're in the Golden Age of social gaming." Collaborative gaming is the thing: your kids are playing with each other, their friends, and even strangers. Why aren't they playing with you?
Scary Mommy put together a list of the best collaborative games out there, ranked by starting age (and for some, with a general age limit that kids might lose interest). And believe me: your kids want you to game with them. When I showed interest in learning Lego Worlds this week, collaborative Lego Worlds surpassed all the things to become activity numero uno in our house — me, my kids' preferred partner, two left thumbs and cluelessness and all.
"Mama, you'll like this. Here's how you ride a unicorn," said my youngest son, endlessly patient about teaching me to use the controller (warning: these will not employ your old school NES controller).
Just trust me.
And when it comes to recommended ages: every kid is different. My youngest showed zero interest in most games until seven. My oldest was mature enough for first-person shooters at ten. Know your kid.
Overcooked! 2: ages 7-12 (rated E for everyone)
Consoles: Nintendo Switch, PlayStation 4, PlayStation 5, XBox1, XBox Series X/S, Amazon Luna.
Number of players: up to 4
This wild cooking game has you serving up increasingly complex recipes in collaboration with family and friends. Environments changes, and complications arise: snooty waiters, moving walkways, and hidden portals. There's even a wizard school kitchen! Warning: this game can get so heated it's been known to cause brawls.
Super Mario 3D World + Bowser's Fury: ages 7-12 (rated E for everyone)
Console: Nintendo Switch
Number of Players: up to four
Bowser's Fury comes bundled with the release of Super Mario 3D World. It's a re-release of Wii U's Super Mario 3D World with an added storyline. The characters all handle differently, reports PC Magazine, and the slightly larger stages help accommodate more players. A high score also gets you a crown. With their Editor's Choice Award, you can't really go wrong.
Mario Kart 8 Deluxe: ages 7+ (rated E for everyone)
Console: Nintendo Switch
Number of Players (local): up to four
Did you play Mario Kart on N64? Best. Collaborative. Game. Ever. Raise your hand if you could kick everyone's ass on Rainbow Row. Mario Kart 8 Deluxe is mostly unchanged from Wii U's version, with some upgrades that make multiplayer options better. PC Magazine gave this one an Editor's Choice Award too, mostly because it's only "an incremental revolution from 1996's Mario Kart 64." This is the game you've been waiting for. Want to play online with your kid? The Dad has a gaming league.
Rocket League: ages 7+ (rated E for everyone)
Console: PlayStation 4, PlayStation 5, XBox 1, Nintendo Switch, Microsoft Windows, Mac OS, Linux, Macintosh Operating Systems.
Bonus: Free to play
Joel Willis told Scary Mommy that Rocket League is not only the most authentically sport-like video game he's ever encountered — meaning that you truly do have to work to improve, and it functions like a real-world sport, not a sport-game like, say, one of the Madden iterations — but that it's wildly fun. Cars! Soccer! Racing! You attempt to score the most goals in your race car. Um, say no more. The Dad has a gaming league for this one, too.
The "Just Dance" Series: ages 7+ (rated E for everyone)
Console: PlayStation 4, PlayStation 5, XBox One, Nintendo Switch, XBox Series X
Number of Players (local): up to six
This fun, competitive dancing game gets everyone off the couch and moving. It updates every year — Just Dance 2022 is slated to debut on November 4, 2021 — but there's also an optional "Just Dance Unlimited" membership that gives you access to over 600 songs. Most of the Just Dance games in the series offer a section of specifically little-kid-friendly songs, though all the songs have anything questionable blanked out. You can also use a mobile phone to track movements through an app, so not everyone has to have a controller.
Roblox: ages 7+ (individual game ratings may vary)
Console: Windows, Mac iOS, iOS, Android, Xbox 1
Bonus: free to join and download, in-game purchases
This is my kids' favorite collaborative game — because there are over 40 million games in Roblox, and every single one is social. Obviously, these vary in quality, and you're best-off sticking to the games with the most users. You'll need two devices, and you'll need to log into the same game and the same server in that game (a simple process). Your kids can also learn to code their own Roblox games, which makes this a super-popular way for kids to learn coding basics. My kids recommend Wacky Wizards, Polly Battle, and a super-realistic, scientifically accurate dino game called The Shrouded World.
Minecraft: ages 10+ (rated 10+ due to fantasy violence)
Console: available on most major tablets, consoles, PCs, and phones.
It's the best-selling game of all time. You can play in survival mode: you compete to survive. Or you can play in Creative mode, which allows you to… build absolutely anything. I'm only rating it 10+ because people build giant penises, but smaller kids will love it, giant penises aside. Here's simple directions on how to play multiplayer modes.
Fortnite Battle Royale: ages 12+ (rated 12+, third-person shooter)
Console: available on most major tablets, consoles, PCs, and phones
Bonus: Free to play
You can play this in several different modes: individually, as a duo (parent-child collaborative gaming!), as three people, or as four. In a nutshell: 100 players fight to be the last man standing. It's the most successful of all three Fortnite games, and "sort of like the Hunger Games." Head over to The Dad for their gaming group.
If it's collaborative gaming you're after, these are some good ones to start with. You can always also harken back to oldies but goodies: Tetris, Animal Crossing … or simply do what we did and buy your kids an NES emulator. Hey, at least I knew how to use the controller, and I can still beat Ganon without using the blue potion.
This article was originally published on