College Students Transform Into Disney Princesses To Cheer Up Sick Kids
by Sarah Hosseini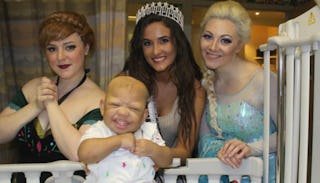 Image via Kylee McGrane
'A Moment of Magic' princesses share their sparkle to bring smiles to kids in the hospital
This is magic. College students dress up as popular Disney princesses and visit children in hospitals suffering from serious illnesses or those with special needs. Their visits have the ability to turn a pretty crummy day into something quite beautiful.
Founders Kylee McGrane and Maggie McAndrew both attend school at The College of Mount Saint Vincent. They started their non-profit, A Moment of Magic, after McGrane watched the Disney hit movie Frozen.
"I really identified with the characters and realized that I even looked like Elsa a little bit," McGrane tells Scary Mommy. "I kind of had this indescribable epiphany where all the things I loved really culminated into one magical idea." The things she loves: children, work for children's cancer, and princesses. She texted her friend Maggie and asked if she wanted to do it with her. "She fearlessly jumped in without hesitation," McGrane says.
The two used a GoFundMe to raise money to start the project. According to USA Today, they received about $2,000 in donations for Disney costumes, wigs, and other supplies. A Moment of Magic has traveled to 12 states and has approximately 40 volunteers. For those hospitals they can't physically visit, they Skype or FaceTime with the children.
In an Elite Daily video, McGrane is seen dressing up in her Elsa costume saying, "I still get nervous every time I go into a hospital. I'm always afraid that I'm never going to be pretty enough, or smart enough, or thin enough, but you know it's the kids that make me confident," said McGrane. Is anyone else crying right now?!
Nerves and even really busy college schedules can't stop these women. They're motivated by something so much bigger than them.
"I really value how small, simple acts can have such a big impact on others and this is something so simple that can have a huge impact," McAndrew tells Scary Mommy. The magic of making a series of small moves collectively for a good cause is always a miracle to behold. One that we can all learn from and be a part of every day.
"I want to make every single dream come true that I can because that's what these kids deserve," McGrane says. "At the very least, I hope that our message and our story inspires at least one person do something kind today, whether it's simply holding a door for someone else, donating clothing, or joining our team."
There are several costs associated with this project like hospital parking fees, transportation, and gifts for patients. If you'd like to get involved or donate to A Moment of Magic please visit www.amomentofmagic.org/donate.
[free_ebook]