Grandkids Ignore 'Papaw's' Dinner Invite, Break The Internet's Heart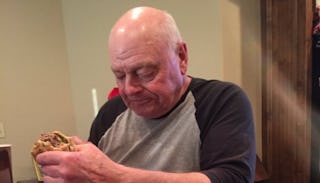 Image via Twitter
A college student's tweet about a special dinner with her grandfather goes viral for all the right reasons
The internet had its heart crushed this week when a college student tweeted a sad photo of her "Papaw" after five of his six grandchildren skipped out on dinner at his house. If that sentence alone isn't enough to make you tear up, the picture will. Luckily, Twitter came out in force making sure Papaw knows he's loved, even if his own grandkids stood him up.
College softball player Kelsey Harmon tweeted the photo of her grandfather this past Wednesday during their dinner for two that was supposed to be for seven. You see, Papaw had made a special meal of 12 homemade burgers (two per kid!) and as Kelsey explains to Buzzfeed, "he even made homemade ice cream, our favorite as kids."
Oh, sweet Papaw. Be still our hearts. Here is the photo, if you think you can handle losing all faith in humanity right now.
Ugh. Poor Papaw. Kelsey explains that with his grandkids all growing older and having busy lives, it's harder for them to get together, which is why he set up this adorable dinner during their college spring break hoping they'd all be able to come. "He's always trying to make sure we all stay close to him and close to each other," Kelsey tells Buzzfeed. This is far too much for my heart to take and obviously, the internet feels the same way. Kelsey's tweet went viral overnight with people the world over deeply moved by Papaw's dinnertime plight. There came a number of offers to eat dinner with Papaw whenever he wanted and also, plenty of scolding for the five grandkids that didn't show up.
Some even tracked down Kelsey's cousin Brock and started trolling him for ignoring poor Papaw's dinner invite.
Thankfully, Brock rectified the situation by paying Papaw a special visit and proved it in a tweet including a photo of him eating burgers Brock brought. Awwww.
The overwhelming response to this story includes many tweets about people missing their own grandparents, which is something a lot of us can relate to. Many probably don't appreciate their grandparents while they're alive and end up with regrets after they pass.
This hit home for me as I still have both of my grandmothers and they're in their mid-80s. I know they won't be around forever and I constantly worry I'm not calling or visiting them enough. This story definitely makes me want to set up a coffee date with both of them. I also want my kids to know how important it is to respect their grandparents and to love and spend time with them while they can. This story is such a great reminder of how precious these relationships can be and how much we should treasure them while we have them.
Of this family situation going viral, Kelsey says, "If I made just one person call their grandparents and check on them, then it's all worth it. I think the world of my Papaw and I want him to know how loved he is."
Mission accomplished, Kelsey. We are all so glad you're there for Papaw and we know he is too.
This article was originally published on