Taking College Tour Road Trips With My Son Has Stirred Up A Treasure Trove Of Emotions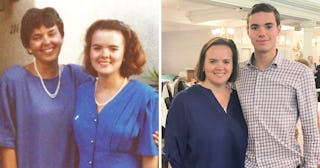 Courtesy of Elizabeth Lippincott
I'm planning a spring break college tour in California with my 16-year-old son, my husband, and our younger son. "Remember parents, when planning college visits, that it's not about you," the parenting experts say. Of course, they're right that it's not about me, but it is such a milestone for every member of our family that I can't help but think about myself at that stage of life. Parenthood has a way of taking us back in time by dredging up vivid memories. I remember exactly how it felt to be a high school junior peering out into the future.
In 1988, my mom and I set out from San Diego to visit California campuses during my spring break. She was so happy to be able to take off work and afford that trip. We drove up the coast in her '85 Corolla listening to U2's The Joshua Tree on the cassette player, staying in roadside motels that we selected by looking for "Vacancy" signs when we were ready to stop for the night. We laughed, we sang, we savored the beautiful views. We ducked out of the tour at UC Santa Cruz after a few minutes when I leaned over and whispered that there was absolutely no way I was going there. She was a late-blooming hippie who would have loved Santa Cruz and fit right in. I was a child of the '80s still trying my best to be conventional enough to offset her weirdness. We bought a Banana Slug shirt, though, before leaving the Santa Cruz campus because I've always loved ironic mascots, even in the days when I aspired to be as normal as possible under the circumstances.
My mom and I had a glorious time on that trip. Our hearts were filled with hope. Neither of us knew how we'd pay for college, but that was beside the point. Her work raising me was almost done, and now that my child is 16, I understand how that feels, an unparalleled combination of joy, pride, relief, and heartbreak.
A few years before the trip, my mom moved us from a charming 1920s Spanish bungalow apartment near Balboa Park, a short drive from her office, to a nondescript apartment complex in a strong school district far north of San Diego. I migrated from a tiny, hippie-founded, "alternative" magnet school, named after John Muir, where kids sat in circles of old sofas and called teachers by their first names, to a huge conventional high school that was better funded thanks to suburban property taxes. My mom endured a long daily commute downtown to give me the best high school preparation for college that she could, and she made it clear that I was there to do a job. As an educational publishing editor and former English professor, she tutored me in writing. I did my part by studying hard and participating in the requisite sports and activities to be the "well-rounded kid" that was in fashion with college admissions officers in the '80s. If my motivation wavered, she reminded me what she was sacrificing to have me in that school because living in that upscale, monochrome community was no picnic for her.
We were a quirky liberal version of a struggling immigrant family, bohemian intellectual migrants to suburbia, from a distant culture where literature mattered more than math and the canon of family stories included how wonderfully Great Britain's National Health Service took care of us when I was born and that the medical bill for my birth was only five dollars. Once I brought home a high school progress report with a B in English, which did not go over well, not well at all. Marsha did not move to the soulless suburbs so that her daughter could get a B in English. I learned that a B in math or physics was forgivable, but not in English. Marsha and I had to find our way in a place where the stucco houses were big and identical, Ronald Reagan was a hero, the dads worked for defense contractors, and the moms did not commute to publishing jobs. We were strangers in a strange land. Like any immigrant teenager, I worked hard to fit in with my peers, while my mom didn't even bother to try.
We both knew I would go to college, the best one that would take me, and that college would launch my life, which it did. There was never any question about that, and neither of us harbored doubts that my future would be bright if I worked my tail off and played it smart. The American Dream was alive and well on our spring break of junior year road trip, with our car windows manually cranked down as we drove up the Pacific Coast Highway. Blessedly, this was in the days before UC schools even charged tuition, and the registration fees were less than $3,000 a year. Compared to today, it was a great time and place to be a high school kid from a financially precarious single-parent home.
That was a long time ago. Now, I can only wonder what the world looks like through my son's eyes as he peers into his future. I wonder what he thinks about his crazy mom, who has long since abandoned attempts to be normal. Maybe he'll tell me when he's 47 and getting ready to take his kid to look at colleges. I'm sure our family will have a good trip this spring. Compared with my college tour, we'll have a nicer car, better hotels, no need to look for vacancy signs along the highway, even more college choices, and no financial worries. I'm going to subject everyone to The Joshua Tree on high volume, for good measure, with the windows down to feel the ocean air.
Despite all that, I'm certain we won't have any more fun than my mom and I did in 1988. I'm not even sure that's possible.
This article was originally published on