Be Very Extra This Year With A 7-Foot Rainbow Christmas Tree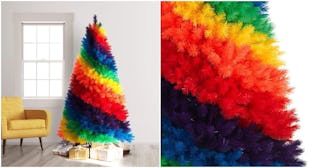 Amazon
This rainbow tree will be the talk of all of your family and friends
If you're looking to up your Christmas decor game this holiday season, have we got a tree for you. Amazon is selling a Color Burst Rainbow Christmas Tree that is everything it sounds like it should be — and more.
The holidays are a time to deck your halls with as much festive shit as you can fit on every shelf, mantle, and bathroom counter available. The holidays are extra — the more the merrier and all that jazz — especially when it comes to decorating your tree. While some will argue real versus fake, Douglas fir over Fraser, no one — and I mean no one — will be able to compete with this multi-colored rainbow sapling.
The Color Burst Rainbow Christmas Tree from Treetopia is exactly what it sounds like — a burst of red, orange, yellow, green, blue, and purple colors that looks like what would happen if Rainbow Brite had sex with a pocket square. "Featuring vibrant, rainbow-colored PVC needles, this unlit Christmas tree has a full shape and makes for a cheerful display even without ornaments," Amazon's site describes. Standing a proud seven feet tall and just under four feet wide, it can easily fit in most living spaces.
Worried about the family gathering getting bloody when political sides face off the one time of year they see each other? Not anymore. Who can argue in front of this majestic beast? Concerned Santa won't be able to find your house? Heck no — he'll be able to see this sucker from the North Pole. Wondering if your ornaments will "go" with the tree's color scheme? Doesn't matter. If you have kids, all hundred baubles will be hung on the two lowest branches anyway so your tree will look as stupid as the rest of their friends.
The Color Burst Tree would also solve the frustration and sadness of having to take it down at the end of the holiday season. This could stay up for kid's birthday parties, Easter (hello decorative egg ornaments), Pride month, Mardi Gras, Cinco de Mayo, Bastille Day, and every Happy Hour you host throughout the year (so, Fridays).
According to its manufacturer, Treetopia, this "rainbow Christmas tree elicits smiles and radiates pure happiness with its vibrant appearance. Spiraling with a plethora of colors, this tree requires no lights to wow a crowd." Truer words have never been spoken.
This tree is perfect if you're looking to shake things up this year and it's available now on Amazon for $239.99, which includes shipping and a white tree stand. Sure, it's a little costly but you can't really put a price on happiness, can you?
This article was originally published on