Colorado Grand Jury To Investigate Elijah McClain's Death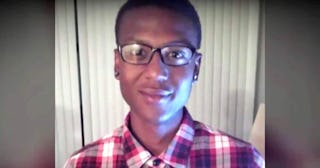 CBS This Morning/Youtube
"Our investigation will be thorough, guided by the facts and law, and worthy of the public's trust," the statement reads
Last summer, the country mourned and sought justice for Elijah McClain, a 23-year-old Black man who was violently detained and killed by Aurora, CO police during an arrest in August 2019. Now, nearly a year and a half following McClain's untimely death — and seven months after Colorado Gov. Jared Polis appointed a special prosecutor to reinvestigate the circumstances that led to McClain's death — Colorado Attorney General Phil Weiser announced Friday he will launch a grand jury investigation, promising a "thorough" investigation "guided by the facts and law."
"Under the Governor's executive order, the Attorney General's Office continues to conduct an independent investigation concerning the events of August 24, 2019 involving Elijah McClain and his subsequent death," Weiser says in a statement. "We have now opened a grand jury investigation. The grand jury is an investigative tool that has the power to compel testimony from witnesses and require production of documents and other relevant information that would otherwise be unavailable."
Weiser continues to say that in order to "maintain the impartiality and integrity of the process," they have no further comment at this time.
Bernice King, CEO of the Martin Luther King Jr. Center for Nonviolent Social Change, took to Twitter to call the move "an important step."
"#ElijahMcClain should be alive and thriving," King added.
McClain, who was anemic, was walking home from a local convenience store and wearing a ski mask to keep his face warm. After the Aurora Police Department received a call about a "suspicious man," they physically apprehended McClain, who weighed just 140 pounds, with a carotid hold and threatened to sic their K-9 on him.
"He is laying on the ground vomiting, he is begging, he is saying, 'I can't breathe.' One of the officers says, 'Don't move again. If you move again, I'm calling in a dog to bite you,'" writes Mari Newman, the McClain family attorney, in a Change.org petition that's been signed by more than 5.6 million people.
After struggling with officers for nearly 15 minutes and getting sedated with 500 milligrams of ketamine, McClain survived two heart attacks before he was pronounced brain dead on Aug. 30.
"Elijah McClain should be alive today, and we owe it to his family to take this step and elevate the pursuit of justice in his name to a statewide concern," Gov. Polis said in a June 2020 statement, announcing a new investigation nearly a year after McClain's death.
Polis also said that, although the state government "rarely steps in to investigate, and potentially prosecute, an incident over the individual decisions of district attorneys," McClain's case is "truly exceptional."
In July, three Aurora police officers — Erica Marrero, Kyle Dittrich, and Jason Rosenblatt — were fired and one resigned (Jaron Jones) after photos surfaced showing them mocking the death of McClain. According to Police Chief Vanessa Wilson, officers Marrero, Dittrich, and Jones posed for photos on Oct. 20, 2019 near an Elijah McClain memorial site, and in the photos, the three officers are smiling while "reenacting a carotid control hold," the same control hold used on McClain that led to his death.
None of the officers involved in the August 2019 incident, however, have been charged in connection with McClain's death.
A few days prior, however, cops in riot gear used force at and tear-gassed a peaceful violin vigil for McClain.
"As police in riot gear were spraying protestors with pepper spray and using batons to push them back at the #ElijahMcClain protest in Aurora today, this man began to play the violin," Marc Sallinger tweeted. "One of the most surreal scenes I've ever seen. Music is powerful."