Kids Return To Sweet Messages From Teachers After Colorado Lockout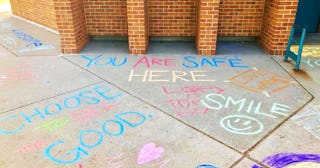 Image via Saralyn Ward
Teachers at a Colorado school left sweet messages for students returning after the lockout caused by an armed woman's threats
Teachers at a Jefferson County, Colorado school made a meaningful gesture for kids returning to classes after threats made by an armed 18-year-old woman caused dozens of area districts to close on Wednesday. When parents and their elementary-aged kids arrived at the campus Thursday morning, they were greeted with several sweet notes written in colorful chalk by the teachers at the school. One mom took to Facebook to share her gratitude — and the message that teachers should be appreciated now more than ever.
"Beside myself…" Saralyn Ward writes. "When we dropped our elementary kids off at school this morning, this is what welcomed us." The mom shared photos of several loving messages left by the school's teachers to help returning kids feel comfortable.
"The teachers had written messages in chalk in front of every classroom door, telling the students how safe and loved they are," she shares. "Choose to see the good" and "You are safe here" decorated the sidewalks along with messages like "Smile" and "You are loved."
"The parents hugged one another and smiled through tears. Police officers checked in on families to see how they were doing."
But the welcoming messages aren't the only way the school's educators and staff worked to help kids feel secure returning after such a scary experience. "Our principal stood at the crosswalk greeting everyone and my daughter's teacher hugged me through tears, reassuring us they are safe," she writes.
"This is why community will save us. Get to know your neighbors. And thank a teacher today," she urges.
Ward tells Scary Mommy that although the kind and reassuring words were meant mostly for the little ones, it definitely hit the adults too. "The interesting thing is that, while the kids enjoyed seeing the messages, it was the parents that were so comforted and touched by it," she says. "Some of us stayed after the bell rang and walked around the building, taking it all in. The students were mostly just hugging their teachers and excited to see them. I saw several parents hugging teachers too."
Ward tells us her daughter is only in kindergarten, so she couldn't read all the words — but that doesn't mean they were any less impactful on their family. "Having a school community that loves our children as if they were their own might be the greatest blessing a parent could ever receive – now more than ever," she says. "It certainly made today much, much easier."
She says the connection among parents was also "a beautiful thing." They were all happy to see each and "so relieved." Ward says, "One mom standing next to me when we were looking at the chalk said, 'I don't know you, but I feel like I should hug you.' After I posted the messages on Facebook, one friend who was traveling for work texted me to thank her, because it was hard to be away from her daughter right now."
Ward calls the day, "… a testament to how incredibly grateful I am for the other parents in our school community."
Teachers have always been our heroes and so many go above and beyond on a daily basis to make sure kids and their families have everything they need to succeed. In the age of school shootings, we're asking so much more of our educators. As much terror as we feel contemplating the safety and security of our kids at school, imagine how teachers feel being responsible for all of those little lives if that terrible nightmare ever came true.
Going through shooter drills and witnessing increased security measures, seeing armed resource officers patrol the halls, absorbing the fears of their young charges and putting on a face of bravery amid it all. Imagine going to work every day and thinking about the possibility of tragedy while keeping dozens of students safe.
We've never asked more of teachers — and it's awe-inspiring to see how they're responding in a time of such fear and uncertainty.
This article was originally published on