Colorblind Teen Sees Color For The First Time In Emotional Video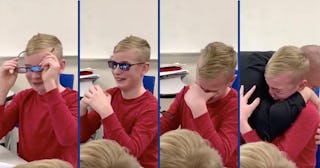 Ben Jones/Twitter
A colorblind student's principal loans him his color blind glasses, and the video will leave you sobbing
Are you ready for a good cry? Because a video showing a teen seeing color for the first time may or may not have us bawling. Two days ago, Ben Jones posted the now-viral video of his younger brother, Jonathan Jones, putting on a pair of color blind glasses, leaving his entire class and his family in attendance shedding a few tears with him. And the moment was all thanks to Jonathan's principal, who is also colorblind.
"My little brother is severely colorblind and so is his principal at school," Ben captioned the video on Twitter — a video that now has more than 111,000 likes and more than 21,000 retweets. "While they were learning about colorblindness in class, his principal brought in some glasses that let him see color for the first time, and he was very emotional."
The video shows the principal hand Jonathan the glasses, and Jonathan slowly puts them on. "So, what do you think?" his principal asks. Jonathan responds simply with a thumbs up — and tears. So many tears.
"That's awesome; hey, come here! Come here, dude," the principal says as he embraces Jonathan in a truly moving moment. "Mom, you better get in there, too. I told you he would get a little emotional," the principal says as Carole swoops in for a hug.
Jonathan then walks over to the multi-colored periodic table hung on the wall, looking genuinely surprised at the different hues he's seeing. The principal then allowed Jonathan to take his glasses home with him for a few days.
"This is just a great example of the huge impact that teachers can have on kids. We need to pay our teachers more; they more than deserve it," Jones wrote.
Shortly after the video was posted, Carole started a GoFundMe to raise money for a pair of color blind glasses — "so he can start seeing the world in color," Ben wrote. "Any excess funds will go to the Enchroma Foundation who provide these glasses to those in need."
The goal amount was set at $350, but in just two days, the family far exceeded that goal, raising more than $15,600 thanks to more than 700 donors.
"Thank you so much EVERYONE for all your kind words," Ben wrote. "It's been incredibly moving to see the support my baby brother has gotten."
Established in 2010, EnChroma is the maker of cutting-edge lens technology and eyewear for color blindness. According to Ben, the organization will match every pair of glasses the family purchases with a free pair. "That means we can double the amount of kids that will get to see color!!!!" Ben wrote.
The principal said it best: "If you can laugh and cry on the same day, that's the greatest day ever." And we sure as hell just did both. Excuse us while we chug a glass of water; that video left us dehydrated.