This Disney Villains Makeup Will Turn You Into The Evil Queen You Were Born To Be
by Thea Glassman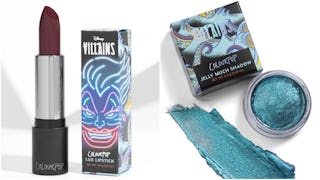 Image via ColourPop
ColourPop's new Disney Villains makeup collection is delightfully evil
Okay, so, Cinderella, Sleeping Beauty, and Ariel are great and all, but I'd like to turn your attention to the true Disney queens. They're villainous. They're evil. Sometimes they like to hand out poisonous apples. That's right, we're talking about the badass bad gals of all our fave Disney movies (now available to stream on Disney+ for $6.99/month). Celebrate your favorite baddies with a ridiculously pretty new makeup collection. Ursula would be proud.
ColourPop's Disney Villains makeup line pays homage to Cruella de Vil, Maleficent, the Evil Queen, and so many other iconic, forever misunderstood women. It'll be released on March 21, according to Popsugar, and features a whole bunch of creamy, satiny, bold colors. Like, this deep plum Ursula lipstick that will make you want to go under the sea immediately.
Or this dark, apple-red lipstick fit for an Evil Queen.
Want an even bolder lip? Go with Cruella's shade. It's an intense, fiery red and should probably be paired with a few dalmatians in tow.
The Misunderstood Pressed Powder Palette features bright, bold, sparkly shades with names like "Forest of Thorns" and "Revenge." You will feel completely evil when you put this eye shadow on and it will feel (and look) fabulous.
Need to up your evil game even more? Snag this Jelly Much Shadow in Curse. It's pure, wicked gold and is best paired with a poisonous apple red lipstick.
And, yes, you CAN and should rock blue eyeshadow. Especially when it's designed for Ursula and is the color of the deep blue sea. Flounder sadly not included.
Every queen needs a gorgeous, striking highlighter. Go with the Super Shock Highlighter in Fairest of All and prepare to feel all kinds of wicked.
And don't forget about your lips. Add a touch of evil with "Puppies!!!" an ultra glossy lip gloss that pays homage to our girl Cruella. Also, it's got flecks of gold in it – be still my heart.
More of a bad apple type of gal? Go with this deep, deep red lip gloss. It's got a hint of sparkle and foreboding to it.
You can also snag a bundle collection of each of the products, including this purple wonderland of makeup courtesy of the Sea Queen, herself.
Or Cruella's bundle, which is equally pretty and equally wicked.
Prepare to turn into the Evil Queen you were born to be. You're about to say "mirror, mirror, on the wall" a whooooole lot.
This article was originally published on