Colton Underwood Gets His Own Netflix Show And People Have Thoughts
by Madison Vanderberg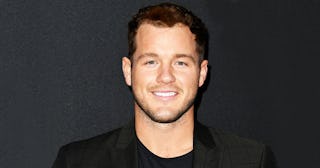 Jon Kopaloff/FilmMagic/Getty
Colton Underwood lands Netflix series about his life as fans remind others on social media of his toxic past stalking his ex Cassie Randolph
Colton Underwood, former Bachelor star, recently came out as gay and minutes after coming out publicly on Good Morning America, Variety announces that Underwood is currently filming a Netflix docuseries about life as a newly out gay man. This news is not sitting well with many people online, who have not forgotten about the September 2020 stalking charges against Underwood by his ex Cassie Randolph.
Sources says that Olympian Gus Kenworthy will also appear in Underwood's Netflix series, "acting as a guide, of sorts" as Underwood navigates life for the first time as an out gay man. A show about a former athlete from a religious upbringing who came out later in life would make an excellent Netflix series, but most online wish it was happening to anyone else.
In recent years, Underwood has been in the headlines mostly for the contentious end of his relationship with Cassie Randolph, whom he met while he was The Bachelor.
Underwood and Randolph dated for just under two years, and after they broke up, she filed for a restraining order, saying he had sent her harassing texts and placed a tracking device on her car.
In court documents from September 2020, Randolph also alleged that Underwood repeatedly showed up at her parents house in the middle of the night after they'd broken up and used "alias phone numbers" to send her and her friends harassing text messages.
Months later the two reportedly reached a "private agreement" and Randolph dropped the restraining order against Underwood. Underwood didn't unpack the stalking allegations during his Good Morning America interview today, but simply apologized to Randolph for "how things ended," saying, "I'm sorry for any pain and emotional stress I caused. I wish it wouldn't have happened the way it did. I wish that I would have been courageous enough to fix myself before I broke anybody else."
Clearly, the internet doesn't feel like Colton has atoned all that much and is now being rewarded, so to speak, with a shiny new Netflix show.
Underwood seemed to explain that the cause of his toxic relationship towards Randolph was due to the "internal fight going on" within him, and while that can certainly be true, starring in a Netflix show is a privilege and the internet's reaction is that maybe the show about the newly out reality star could go to someone who doesn't have abuse allegations in their very recent past.
From the racist statements coming out of the contestants and host Chris Harrison's mouths throughout Matt James' recent season of The Bachelor to Underwood being rewarded with a Netflix series after stalking and causing emotional distress on the woman he "picked" during his season on the show, maybe it's time to consider that the entire Bachelor franchise is cursed and just needs to go away.