Former Comcast Employee Says Low-Income WiFi Packages Are A Scam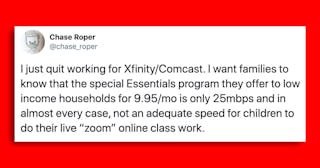 chase_roper/Twitter
A former Comcast employee shares how the company's "Internet Essentials" package provides low-income families with subpar internet speeds
Since March 2020, many families across the country have had to pivot from traditional in-classroom learning to remote learning at home, where parents have become ad hoc teachers and kids are learning exclusively from a screen. It's not an ideal set-up for learning, but it's what we have to do during a pandemic, but to make matters worse, large internet companies are preying on the country's newfound dependence on WiFi and one is offering their worst internet packages with extremely low WiFi speeds to low-income families and telling them the only way to speed up their internet is to pay more.
Chase Roper, a former XFinity/Comcast employee recently went viral on Twitter when he shared the truth behind the company's "Internet Essentials" program, a scammy package marketed at low-income families that serves up subpar internet speeds.
"I just quit working for Xfinity/Comcast. I want families to know that the special Essentials program they offer to low income households for $9.95/mo is only 25mbps and in almost every case, not an adequate speed for children to do their live 'zoom' online class work," Roper tweeted.
The "Internet Essentials" package is targeted at families who already qualify for other subsidized services, like an EBT card, and Roper tells Buzzfeed News that part of the reason he quit his job at Comcast was because tons of families would call in to say they can't connect to the internet and the only way he was able to help them would be to tell them to pay for a more expensive and faster internet tier.
"If it was working technically and that was enough, there wouldn't be so many people calling with problems," Roper told Buzzfeed.
In a Medium post, he described the "Essentials" plan as "on the cusp of 'fast enough' for one person" and said that "depending on the devices in the home, placement of the modem, number of people trying to use the internet, your kids may not be able to do the live stream class environment."
A group of teens from Baltimore decided to come together and do something about it, though it's been an uphill battle.
Kimberly Vasquez, a senior at Baltimore City College high school, tells Buzzfeed that she and her two sisters struggle to get any work done while all sharing the same WiFi router that uses the "Essentials" package. Saying it sometimes takes "an hour" to log into her Zoom class, she says she's "had to go to class late — or, in the middle of class, it's really created a problem for me being focused. Especially since now for each class I only have two hours every week, when it used to be five hours for each class, so that class time is really important."
Vasquez says she spends too much time texting classmates to find out what she missed and apologizing to her teachers to explain that she's not cutting class, she just can't log into the Zoom.
Buzzfeed reports that Vasquez and a group of teens formed SOMOS, or Students Organizing a Multicultural and Open Society, and wrote a letter to Comcast demanding better access to affordable internet, including increasing the speeds of the Essentials plan from 25 Mbps download to 100 Mbps. Comcast denied their requests, saying the Internet Essentials plan worked just fine. The group even signed petitions, hosted press conferences, and rallied other organizations in other states and still, Comcast refused to honor the demands for months on end.
However, on February 2, 2021, SOMOS announced that after nearly a year in the pandemic, Comcast has upgraded the internet speeds for its Internet Essential plan. Starting March 1, 2021, Internet Essential users can get 50 Mbps download speeds, nearly doubling the current situation with no increase to the $10 a month price. It took Comcast a year and it's not the full speeds that SOMOS demanded, but thanks to the efforts of Vasquez and whistleblowers like Roper, it's a start.