Comedian Ken Jeong Uses Real-Life Doctor Skills To Help A Woman During His Show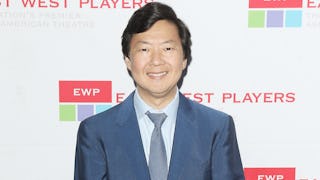 Image via Michael Tran/FilmMagic
Comedian Ken Jeong helped woman who had seizure during his show
Thanks to his medical training, comedian Ken Jeong jumped off stage in the middle of a stand-up set to help a woman in the audience who was having a seizure. While Jeong has played a doctor on TV, he was actually a real-life doctor before his entertainment career took off.
The former star of Dr. Ken and Community was telling jokes on stage at the Stand Up Live Comedy Club in Phoenix on Saturday night. A woman in the third row began to have a medical crisis and people around her started asking for help. At first, the comedian thought the crowd was heckling him, which makes total sense. It's much more common to have a group of people heckle a comedian during a set than it is to have an audience member need a doctor's help. Thankfully, Jeong realized that the crowd wasn't kidding and jumped off the stage to help.
Reports of Jeong's bravery surfaced on Twitter, and the comedian's publicist Michelle Margolis confirmed the heroic account to media outlets. Heather Holmberg, a Phoenix resident, was at the show when the unidentified woman started to have a seizure. "He couldn't see what was going on with the lights. He thought he was being heckled. He was playing with them from the stage for a second," Holmberg told USA Today. "And it was like, 'No, no, no. We need you!' He realized there was an issue, and he came over. It was a moment where time stands still. Someone was having a crisis. There was a hush over the room."
Holmberg said there was also an EMT in the audience that was able to help the woman. "It's a wonderful story. It was such perfect timing: Ken just jumped from the stage to help," she added. Thankfully, the woman seemed to begin recovering while still at the club. The comedian stayed with her until an ambulance arrived to take her to the hospital.
There's no report yet on how she's doing, but hopefully, she's recovered fully and will have an unbelievable story to tell her friends and family. What else can you do when a hilarious comedian jumps from stage to help you, right? Once the woman was headed to the hospital, Jeong returned to the stage to finish his set, to a much-deserved round of applause.
"And he was brilliant," Holmberg reported. "He's a very funny man but you were able to see a side of him that's very compassionate. You don't often see that in comedians."
This article was originally published on