10 Pairs Of Comfy Pants To Slip Into After Your Holiday Feast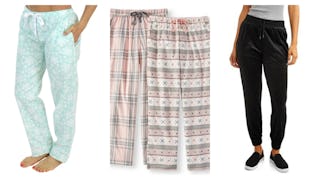 WALMART.COM
Listen, after your holiday feast, you just want to be comfortable. You also want to be able to go back for seconds. We all know there's nothing like clothes that move with you to make you believe in yourself, so we've done the heavy lifting and here they are:
These Levis denim leggings look like jeans but they are leggings, and we want a dozen pairs because they are trendy and stretchy, thank you very much.
Stock up on these leggings — they are seamless, lined and look great with an oversized, distressed sweatshirt, or under your favorite dress or tunic.
A nice pair of Christmas pajama bottoms for those of us who want to get into the holiday spirit as soon as possible.
Maybe a pair of cropped yoga pants are you favorite way to let it all hang out after consuming thousands of calories? We love this basic black pair that should be a staple in every mom wardrobe.
These velour joggers are so adorable and comfy you can wear them to the actual feast. They look super cute paired with a heel or ballet flats and a sweater.
These athletic jersey pants are so soft and hip, you can even wear them to the store to get the antacids you are going to need later.
If slipping on a pair of shorts is more your speed because you have a tendency to get the meat and cookie sweats, then you are going to want to get some of these easy, breezy shorts.
So flowy and fun to wear, these palazzo pants paired with A favorite T-shirt, is the perfect uniform to wear while relaxing in front of the television or reading.
For those extra chilly nights you are going to want something that will keep you toasty — these fleece joggers are perfect for long, cold evenings.
If you want to go the flannel route (who doesn't?), we have the solution — you get two pairs super cute of flannel bottoms for under $20.
There's no need to be in a bad mood this holiday season because your pants shrink every time you have a meal. Change out of those too-tight bottoms as soon as possible and let your feast digest in peace.
We are a participant in the Walmart.com Affiliate Program and may earn fees by linking to Walmart.com and affiliated sites.
This article was originally published on