Companies Are Cutting Ties With NRA After Florida Shooting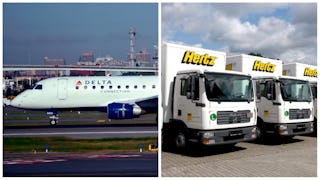 Image via ullstein bild/Robert Alexander/Getty
The NRA is losing company partnerships left and right
A movement is currently underway following the tragic Florida school shooting that claimed 17 lives. Teens are pushing forward a conversation about gun control, some politicians are starting to listen, and the NRA is feeling the heat from its sponsors. More and more companies are cutting ties with the organization, and it looks we're finally, finally seeing progress and accountability unfold.
Social media users have been tightening the noose on companies that associate with the NRA by calling them out on Twitter alongside the hashtag #boycottNRA.
And it's working.
National Bank of Omaha kicked it all off by tweeting that "customer feedback" had caused them to rethink their relationship with the NRA. The bank confirmed that they will not be renewing their partnership with the organization.
Then, MetLife hopped in and confirmed that they planned to end their discount program with the NRA, citing the fact that they "value" their customers.
And then came two major airlines.
Annnnnd then a whole bunch of car rental companies stepped up to the plate.
While this may seem like a small drop in the bucket of change, it's significant and reassuring to see that social pressure actually works. Plus — by losing these companies from their roster — the NRA can no longer offer all those "valuable 5-star benefits" to subscribers.
The organization is, unsurprisingly, pretty pissed about all this. In a statement released on Saturday, the NRA accused their former partners of showing a "shameful display of political and civic cowardice."
"In time, these brands will be replaced by others who recognize that patriotism and determined commitment to Constitutional freedoms are characteristics of a marketplace they very much want to serve," the statement read. "Let it be absolutely clear. The loss of a discount will neither scare nor distract one single NRA member from our mission to stand and defend the individual freedoms that have always made America the greatest nation in the world."
Okay, cool. Literally, no one is trying to take away the second amendment. We're just looking for common sense gun laws. In the meantime, social media users are going to continue to crack down on companies that associate with the NRA — and the Twitterverse is suddenly looking like a glorious, strategic, well-organized space for activism.
Keep the fight coming, everybody. It couldn't be more important right about now.