Conquer Your Family's Spring Break With This Arsenal Of Essentials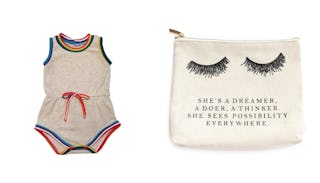 You're winning spring break this year, Mama
Once upon a time in your B.C. life (that's Before Children, natch) the idea of "spring break" may have conjured up images of tropical locales, marathon beach volleyball matches, and body shots. But no longer. (Sigh….) Nowadays, packing your kids and all their paraphernalia into the car for a trip across state lines feels overwhelming.
But this year will be different, Mama. Arm yourself with everything you need to make your family's spring break #memorable and don't forget — it's your time off too! (Sort of.)
Before you take off for destinations unknown (or perhaps just an hour upstate) you'll need to pack up your necessities, and of course we mean lipsticks. Let's ditch the sandwich bags and get a little classy with this adorable make-up bag. Small enough to be conveniently stowed away, but big enough to hold your eyeshadow palettes, you'll feel organized and inspired every time you open it.
Whether you're constantly jetting off to foreign venues or just want to look the part — these travel pouches will add an exotic flair to your suitcase (or repurposed gym duffel bag). Plus, these look so sophisticated and grown up, there's no WAY any small members of your travel entourage will mistake them for snack containers.
No matter where you and your crew wind up on your spring break, you'll all want to look the part. That means ditching your winter duds for some sunny warm-weather wear. Your kids will love these cute rainbow unicorn sunglasses — and they come in a couple of super pretty lens shades.
Rompers are for romping and your little ones will look so freakin' cutely retro in this rainbow romper, you'll be instagramming every romp they take. Field romps, beach romps, park romps, carpet romps…
Here's hoping your spring break will bring sunshine and lollipops instead of rain and black licorice, but bringing along a comfy cap ensures you're covered either way. Say something powerful in pink – it is spring, after all.
Reminiscing about spring breaks long past? Recapture your youthful outlook on life through these retro sunglasses. Between the bright color variations and the mirrored lenses, you'll be humming the theme song to "Miami Vice" — even if you're driving through Minnesota.
Don't even THINK about going on spring break without a new manicure, Mama. Make your nails as warm and toasty as the weather will (hopefully) be wherever you're headed. This nail polish is made up of a rare hologram pigment that creates intense solar flares in any direct light source! No sun in the sky? Make your OWN sunshine.
Ah road trips. The landscape, the roadside attractions, the constant pitstops, the whining, the arguing …oh yeah, those road trips.
Whether you're flying, driving, or taking the bus, keep your kiddos from killing each other in the backseat with fun and colorful ABC flashcards that are also unexpectedly hilarious. Yes, we mean pictures of poops and farts. What's not to love?
Got passengers who are too young for flashcards? Keep them from gnawing on your nerves — let them gnaw on this gorgeous teething necklace, instead. This fashionable piece of teething jewelry is safe, non-toxic, and doubles as a modern accessory. It can go straight from Baby's mouth to around your neck when you stop for dinner. (Although we suggest wiping it off first.)
Here's hoping your spring break is relaxing, but if it feels more like "same parenting stress, different location", take heart: there are another glorious two and a half months of school left before summer vacation. Enjoy it!
This article was originally published on