New 'Consent Condom' Requires 4 Hands To Open It
by Thea Glassman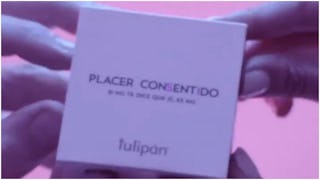 Image via Tulipan
Women are explaining just how problematic the new "consent condom" is
Tulipan, an Argentinian company that sells condoms and sex toys, is trying to start a conversation about consent. They've designed condoms and placed them in a box that can only be unlocked with four hands, in an attempt to fight back against sexual assault. However, there's a whole lot of issues with the four hands concept. Women took to Twitter to break down the problematic nature of this new product.
First off, here's how Tulipan is marketing the Consent Condom. A video demonstration of the product comes with the tagline: "If they don't say yes, it means no. Consent is the most important thing in sex." The company is using the hashtag #PlacerConsentido ("permitted pleasure") and placing the product in bars and events in Buenos Aires. The condoms will be available for sale later this year.
"Tulipan has always spoken of safe pleasure, but for this campaign we understood that we had to talk about the most important thing in every sexual relationship: pleasure is possible only if you both give your consent first." BBDO Argentina Creative Director Joaquin Campins said in a statement to CNN.
Many women took to Twitter to explain the multitude of issues going on here. First of all, who says that someone intent on committing sexual assault would even bother to use a condom? Second of all, consent can be given and then taken away during a sexual experience – it doesn't just happen and remain valid throughout the entire act just because the condom is opened. Third of all, this whole specialized condom idea could be setting a dangerous precedent when it comes to the discussion of consent.
"OK so I have seen & taken the piss out of a LOT of products in my time but the Consent Condom is definitely the worst one I've seen in 2019 so far," Independent editor Holly Baxter wrote in a tweet. "Doubt that many potential rapists are going to be foiled by this. The worrying thing is that this frames consent as a 'discussion' and implies that the real issue is that women might make it up/exaggerate after consensual sex. This is a product designed essentially to protect men from rape accusations, not to protect women from rape."
She added that she understands that this is an "ad agency gimmick" but it's still important to discuss. Others shared similar sentiments.
https://twitter.com/jetpack/status/1115839498791915521
And, as Twitter user @KellyShibari aptly tweeted: "Couples already engaging in condom sex would have no need for this product. People who are shady are still going to be shady. Four hands to open a condom pack doesn't *actually* constitute consent."
One thing is for certain. There's a real issue with condom use in Argentina. Only 14.5 percent of Argentinian men use condoms on a regular basis, according to AHF Argentina, an AIDS organization. 65% of men said that they occasionally use condoms and (big big yikes here) 20.5% said they've never used a condom.
So, clearly a conversation about protection needs to happen. Maybe just not with this locked condom box that sends the wrong message about the many layers of consent.
This article was originally published on