New Recommendations Would Mean Ditching The Infant Car Seat A Lot Sooner
by Ashley Austrew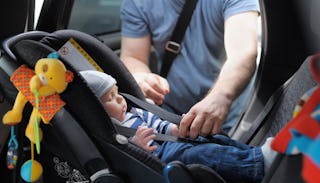 If you've been wondering when to transition your child from an infant car seat to a convertible model, Consumer Reports has a new recommendation that might help you out. According to the results of recent crash tests, they're urging parents to transition kids into larger seats before age one.
The new guideline is based on tests of rear-facing detachable infant seats that showed they carry an increased risk of older babies hitting their heads on the back of the passenger seat during a crash. According to the report, a 22-pound dummy, intended to simulate a 12-month-old child, suffered a head strike against a simulated passenger seat in 16 of 30 tested infant car seat models. Here's what that looks like, in case you're sitting there thinking, "Huh?"
With convertible car seats, only one of the 25 tested models had the same issue with head strikes. Based on those results, Consumer Reports recommends moving babies into convertible seats before age one, even if the child is still within the seat's height and weight limits. They write, "The good thing is that this new advice doesn't change the number of seats you'll need. It simply suggests making a transition that you already needed to make, sooner rather than later."
Interestingly, some moms are accusing both Consumer Reports and the media of sensationalizing the issue and causing parents — especially parents who can't afford new seats or might not be as well-versed in car seat safety — unnecessary panic. In response to the news on Facebook one mom wrote, "This is irresponsible reporting … Age one is too much of a blanket statement." Another parent said:
"There are a lot of articles floating around that cite the latest 'crash tests' from Consumer Reports that advise parents of 1 year olds to move their littles to convertible car seats ASAP. Consumer Reports hasn't been very transparent about their new crash test model, and they didn't run their tests more than once to look for variables."
So, do you really need a new car seat, or what? The answer is: maybe.
According to The Car Seat Lady, an online car seat safety resource run by experts in the field, Consumer Reports only releases averaged crash results rather than complete data, they don't test every possible installation method or every crash angle (they only tested front impacts), and — like the mom above mentioned — they didn't run their tests more than once, which makes it difficult to draw any real scientific conclusions. Plus, there are risks to putting an infant into a larger convertible seat if the seat is too big.
Whether or not you should upgrade your seat is dependent on more than just the type of seat you use, a child's age, and the results of this one test. The main thing everyone seems to agree on is this: all children need to be properly restrained in a seat that fits their height and weight requirements, and they should remain rear-facing as long as possible. The child's head should also not be within one inch of the top of the seat when rear-facing. If it is, it's time to get a bigger seat.
According to the National Highway Traffic Safety Administration, up to 90 percent of car seats are installed or used incorrectly. That, more than anything else, is what puts kids at risk. Moms can argue all day about crash tests, safety ratings, when to buy new seats, which brands to use, and a host of other issues, but the main thing to remember is that using your chosen seat properly is what ultimately keeps your child safe.
This article was originally published on