The Cast Of 'Contagion' Reunites To Make Coronavirus PSA
by Christina Marfice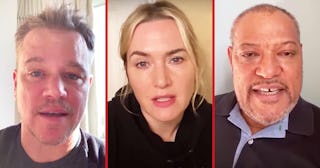 Columbia Public Health/Youtube
Want to know how to fight against the coronavirus? The cast of Contagion has all the details (vetted by health professionals, of course)
As we continue to navigate the coronavirus pandemic, many people are noticing the eerie similarities between what we're watching play out in the world right now, and the 2011 movie Contagion, which is about the emergence of a deadly new virus that sweeps the globe and causes massive changes to the way people live — until a vaccine is developed and life can (sort of) go back to normal. Sound familiar? That's why Contagion is back on the charts, nearly a decade after it's release. As people online have noted, watching a movie that used to be entertainment now feels almost like a documentary.
While the actors who starred in Contagion aren't public health experts, they played them onscreen. And now, they've consulted with public health experts to release a series of PSAs about how we can all best fight the coronavirus while staying safe and healthy.
While the cast kind of reunited for this project, they did so virtually, of course, as social distancing best practices say you shouldn't get within six feet of anyone who isn't an immediate member of your household.
First up was Matt Damon, who plays the husband of the woman who brings the virus to the United States in the movie. His character is, for some reason, immune to the virus — or he's someone who's asymptomatic, something we're seeing in some people who contract the coronavirus. In his PSA, he explains social distancing and how it will help slow the spread of the virus long enough for hospitals to treat the sickest patients without becoming overwhelmed, and public health agencies to get the current outbreak under control.
Kate Winslet, who in the movie plays an epidemiologist who ultimately dies from the virus, has a PSA on hand washing.
"To prepare for the role, I spent time with some of the best public health professionals in the world," she says. "And what was one of the most important things that they told me? Wash your hands like your life depends on it, because right now, in particular, it just might."
And finally, Laurence Fishburn, the Centers for Disease Control doctor in Contagion, did his part in this coronavirus PSA by urging viewers to make adjustments to their day-to-day activities to avoid physical contact with other people, since human-to-human contact is how COVID-19 spreads.
Marion Cotillard, who played an epidemiologist with the World Health Organization in the film, shared her experience from her own country of France warning of the bad path America will head down if social distancing isn't taken seriously.
The coronavirus will change how we live our lives, potentially for a long time. But that's a small price to pay for staying healthy and alive, and following expert advice like this is the best thing any of us can do.
Information about COVID-19 is rapidly changing, and Scary Mommy is committed to providing the most recent data in our coverage. With news being updated so frequently, some of the information in this story may have changed after publication. For this reason, we are encouraging readers to use online resources from local public health departments, the Centers for Disease Control, and the World Health Organization to remain as informed as possible.
This article was originally published on